Happy June!
From May to June, you continue to make Adoray bloom.
We hope this month's newsletter brings as much light and warmth
to your day, as the longest day in June.
Greetings Volunteer Friends!
Today marks a moment in time to be aware of our blessings. With all the changes around us, it is good to pause, reflect, and honor. You know the saying, "When life gives you lemons, make lemonade?" Well, there's a lot of different flavors of lemonade. So, how we navigate the changes in our lives will look different for each of us. I encourage everyone to honor the process that each individual, including yourselves, is going through. Change is hard. Plain and simple. It is a good time to count our blessings.
One of those blessings is that I am back at the Adoray office (see picture below), and trying to set up my phone system! Here's the office number, so you can call me there: 715-629-1888 ext 213. Direct: 715-629-1905. Another blessing is all of you! If I haven't spoken with you or emailed you yet, don't worry! We will definitely connect soon. We are honoring one of our own volunteers in this issue of Adoray Connection. I trust you will appreciate the story of Barb Hess and her dedication to the service of Adoray throughout the years.
So, you might be wondering now that I get to come back to the office, how about our volunteers? Good question to ask. We are being cautious with returning to our Adoray office and employing safety protocols due to the realities of Covid-19. We are revisiting the question of volunteer involvement on a case-by-case basis and as you, the volunteers, are comfortable. We need to give it time and take a slow approach to returning. At this time, we must also be extra cautious with our hospice patients and have minimal physical presence due to the quick spread of the virus and necessary distancing rules to keep people as safe as possible.
Remember, though, our patients still need us. So, I invite you to ask yourself, "What can I do to help." Then, answer that question in a creative way based on the skills or interests you have.
Here are some ideas for us to brainstorm:
Do you like to talk on the phone? If we could arrange a phone call between you and a hospice patient, would that be something you'd like to do?

If we can arrange it, would you be interested in doing a "window visit" with a hospice patient. This is where you would literally have a window between you. You may have cell phones to talk, or you may not. However, a person to say hello, and simply be there, showing they care, can go a long way to help with isolation, even if you don't get to speak!

Do you have a "Good Citizen" or Therapy Pet that you could make visits with to our hospice patients through a window. I took my pupster to the local nursing home and had him walk by the windows and sit for a minute, so the patients in the lobby could see him. It was just a few minutes, but if it brings a smile, it's so worth it!

Are you blessed to enjoy drawing pictures or writing letters? How about a letter of encouragement, or fun picture for a patient to enjoy. Remember, joy for even a moment, brings comfort.

The Dear Friend Project

: Please consider writing a simple note of encouragement to "Dear Friend." Then sign it at the end with your "first name" and "Adoray Volunteer." Feel free to be creative. If you like to make cards, this is the perfect project for you! If you prefer letter writing, that would be great too! Please deliver these in person or by mail to the Baldwin office. We'll keep a basket in our hospice supply closet so the nurses can bring an encouraging note to their patients.

Would you like to work on projects at home like putting together caregiver baskets?

Your Ideas Matter. Please share them with me.
Our patients will truly be grateful and affected by your consideration of them at this stage in their lives. They will be able to count you among their blessings in this life. They and their families will be able to remember this about you:
"When I count my blessings, I count my days with you."
Enjoy your newsletter, check-out the crossword activity, read the heartwarming story of Barb's life, and be well.
Until we "meet" again,
Your friend, Brenda

We missed our May Birthday's in last months newsletter - So here's a reason to celebrate your special day again :)

Mari Swanson - 5/4
Kenneth Lear - 5/4
Irene Hansen - 5/5
Rob O'Keefe - 5/8
Alison Colburn - 5/8
Susan Aubart - 5/9
Dellene Hirstein - 5/10
Becki Zeuli - 5/11
Diane Welter - 5/12
Lisa Aurandt - 5/12
Barb Johnson - 5/13
Terry Rademaker - 5/15
Carolyn Brumbaugh - 5/15
Jennifer Eidem - 5/16
Dick Sr. Gregory - 5/16
Anita Slate - 5/18
Kelli Galbraith - 5/18
Kim Patterson - 5/19
Mary Leidle - 5/19
Judy Merritt - 5/20
Barb Hess - 5/22
Blair Gunderson - 5/24
Laura Johnson - 5/26
Linda Millermon - 5/26
Karen Nellen - 5/27
Barbara Lear - 5/28
Sue Phillips - 5/31
Julie Campbell - 5/31
Georgann Shiely - 6/2
Anna Lee - 6/3
Wynona (Davey) Keatley - 6/4
Brenda McDaniels - 6/4
Nancy Hildreth - 6/8
Lisa Woletz - 6/10
Laurie Rau - 6/10
Marilyn Doornink - 6/11
Ronald Miller - 6/11
Alexis Willard - 6/15
Kenneth Owl - 6/18
Wendy Peskar - 6/21
Patricia L. Anderson - 6/22
Jake Thomas - 6/27
Pam Donahue - 6/28
Volunteer Spotlight
Barbara Jean Hess
Our "special" featured volunteer we would like to share with you is Barbara Jean Hess. She was born in Superior Wisconsin May 22, 1946. She was born to hard working parents and was the 4th child out of five. Barb's dad was an iron worker (welder) unafraid of heights and Barb's mom was a full time mother and janitor for the schools.
As a child Barb grew up in Hawthorne, fishing all seasons, and listening to Gary Moore, Arthur Godfrey, Amos and Andy while traveling to go fishing. Her favorite memories were driving on the ice on Lake Superior with her dad and siblings. Her dad would say, "Hold on to the door handle, in case we go thru the ice and you have to jump out!", getting to their destination on the ice, chopping holes, bonfire, roasting hotdogs, and going to the Island to explore as her dad fished. Barb's love for the elderly came somewhere in her childhood. When she finished chores at her home, she would go door to door in her neighborhood to see how she could help the elderly with chores at their homes. That is where her passion began for the love of helping people.
After Barb graduated from high school she began a job as a prep cook, in the beautiful town of Solon Springs while attending Antigo vocational school, where she met her husband Tom Sr. They were married 50 years. Was it love at first sight? She said, "No, I made him work for me!", she said with a giggle. She loved married life and they were blessed with 3 beautiful children Tammy, Tom Jr., Tonya, and 4 wonderful grandchildren. Tom and Barb eventually moved to Hersey Wisconsin. In 1983 they lost their house to a fire, than eventually moved to Star Prairie WI. Barb would reminisce often when she was cleaning and pricing items at the store that she had lost in the fire. She would always say, "Linda, things are replaceable, but my family isn't, for that I am truly grateful!" Barb then began her employment in the housekeeping field at Parkview Nursing Home for 7 years then Holy Family for 7 years. She always shared stories of her favorites at both places and shared sweet stories of residents and patients. Her love for others was always evident in her heart.
Barb's favorite passions besides helping others are God, Family, Baking, Canning, Cooking!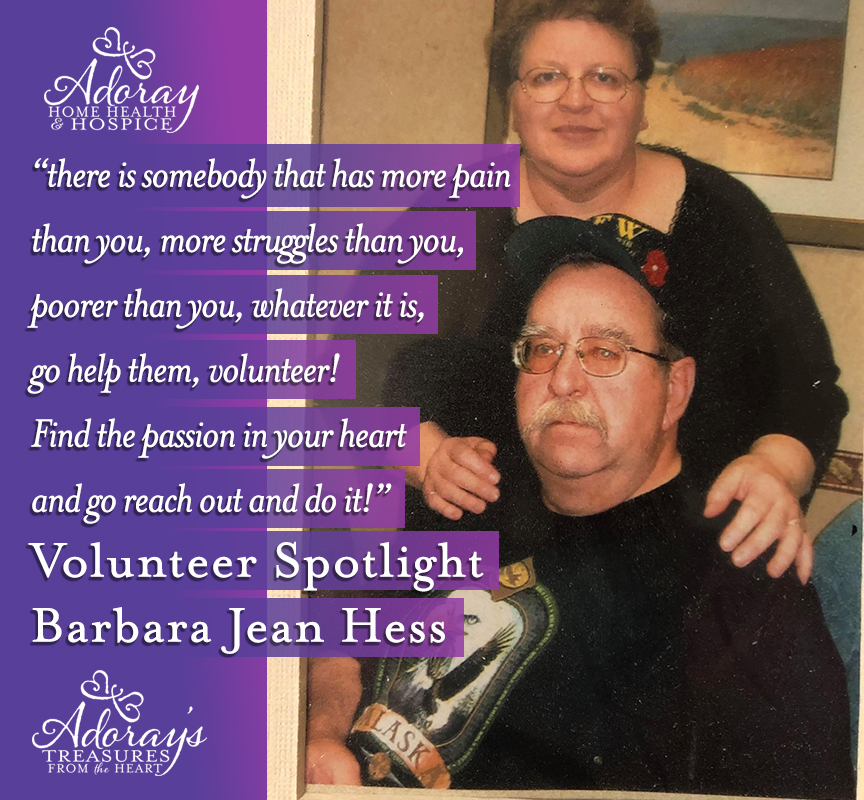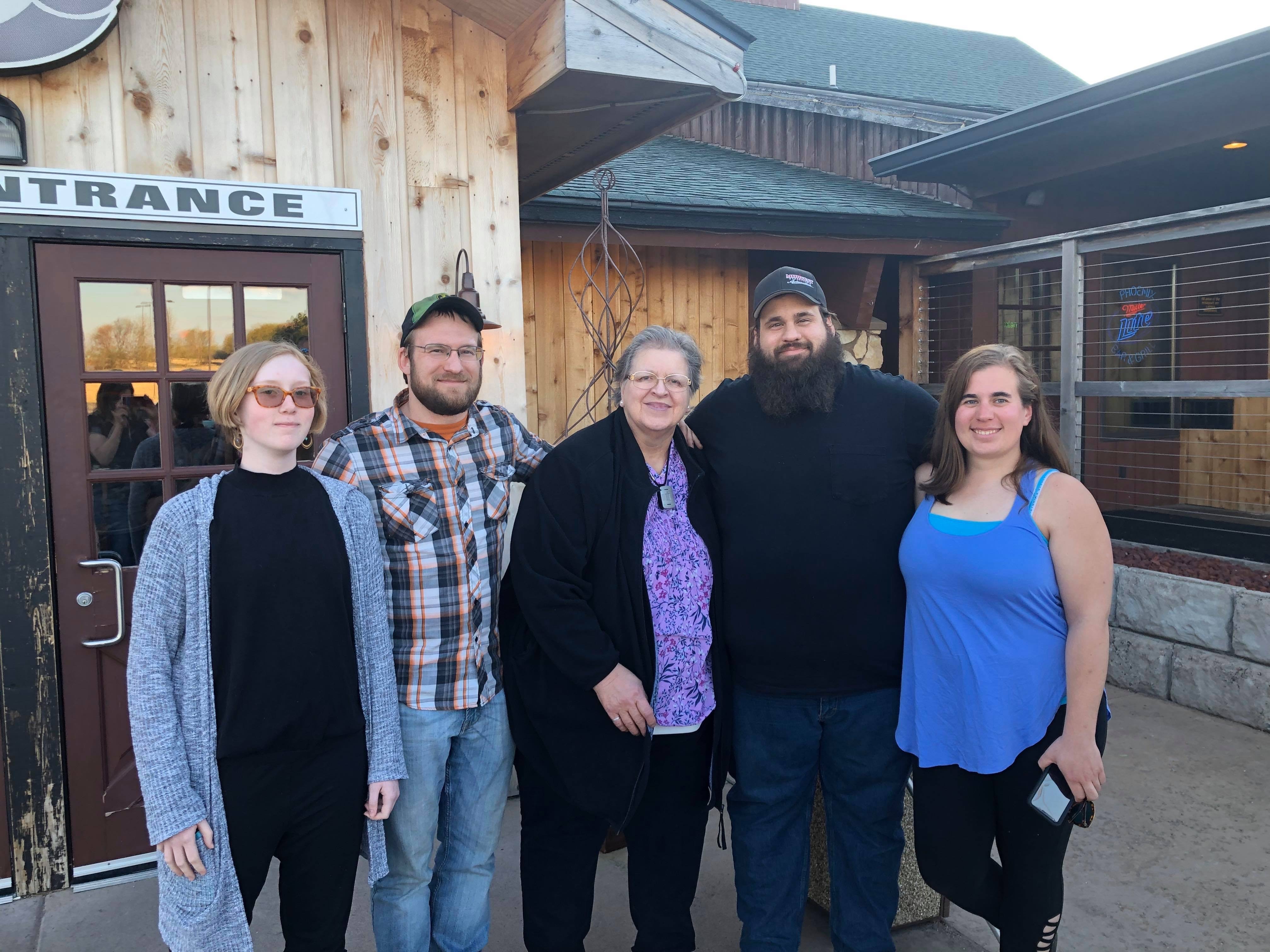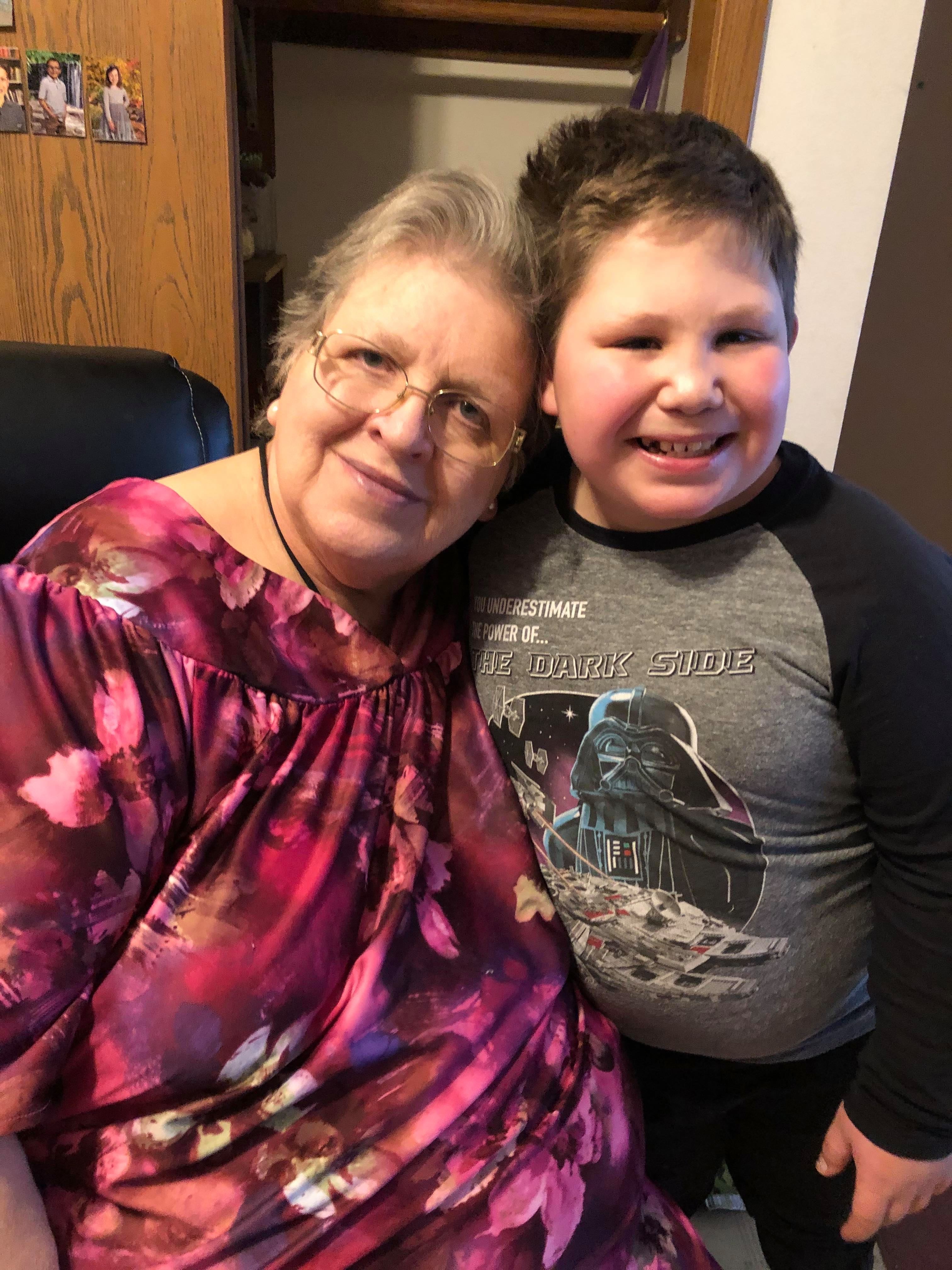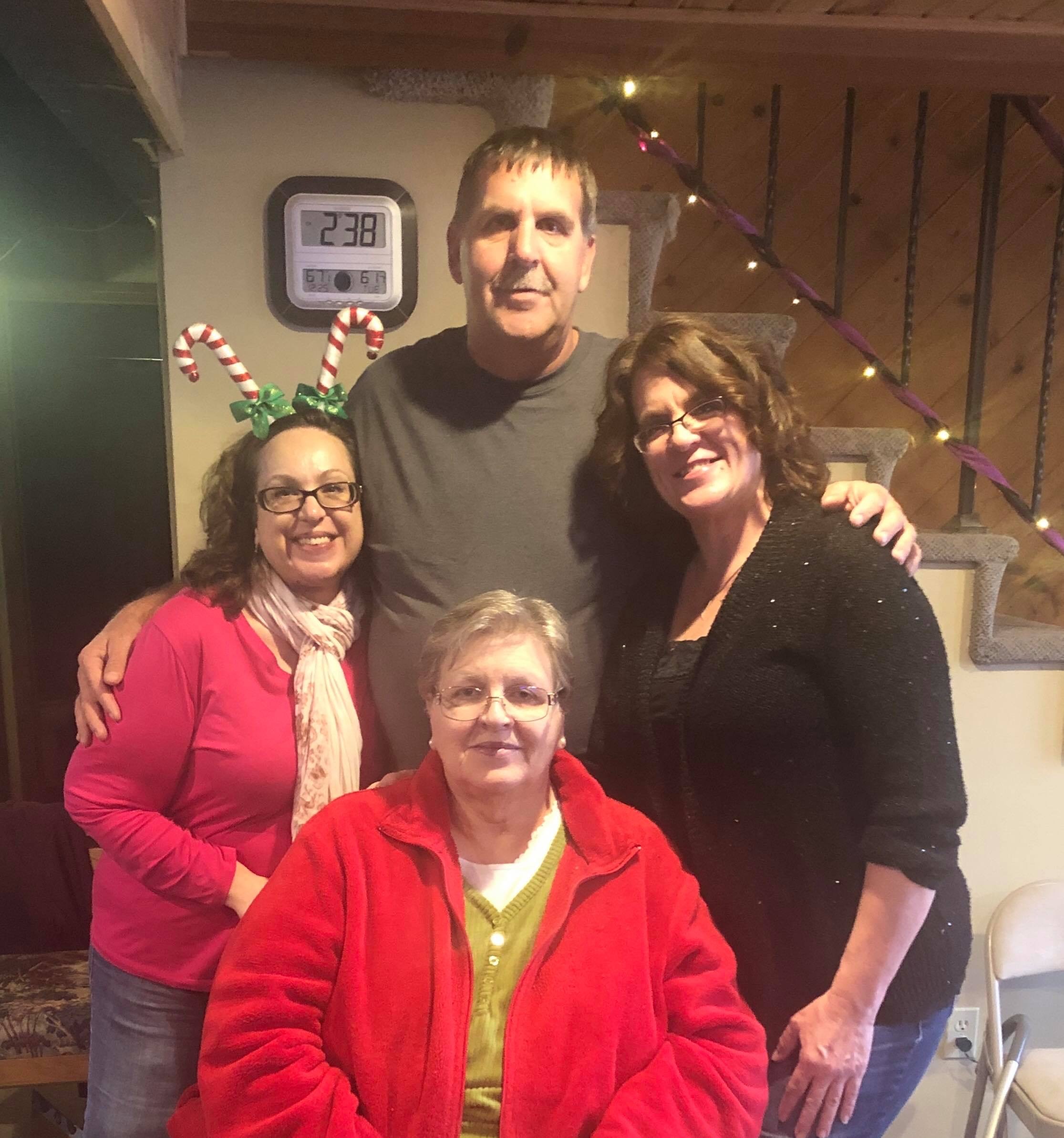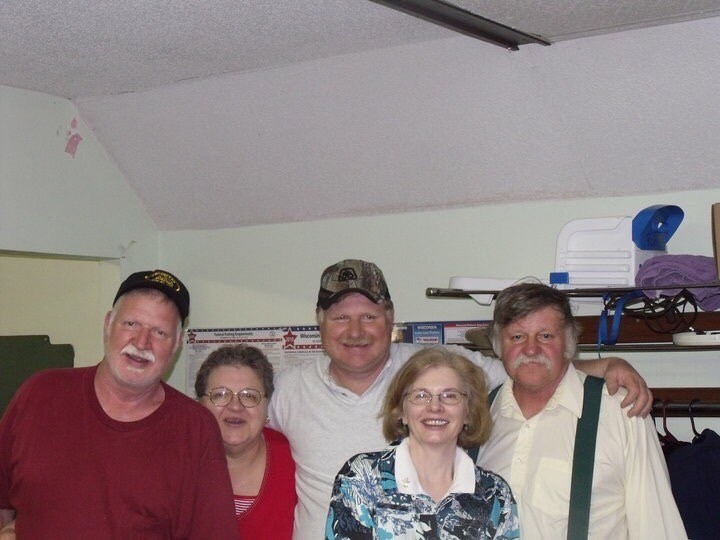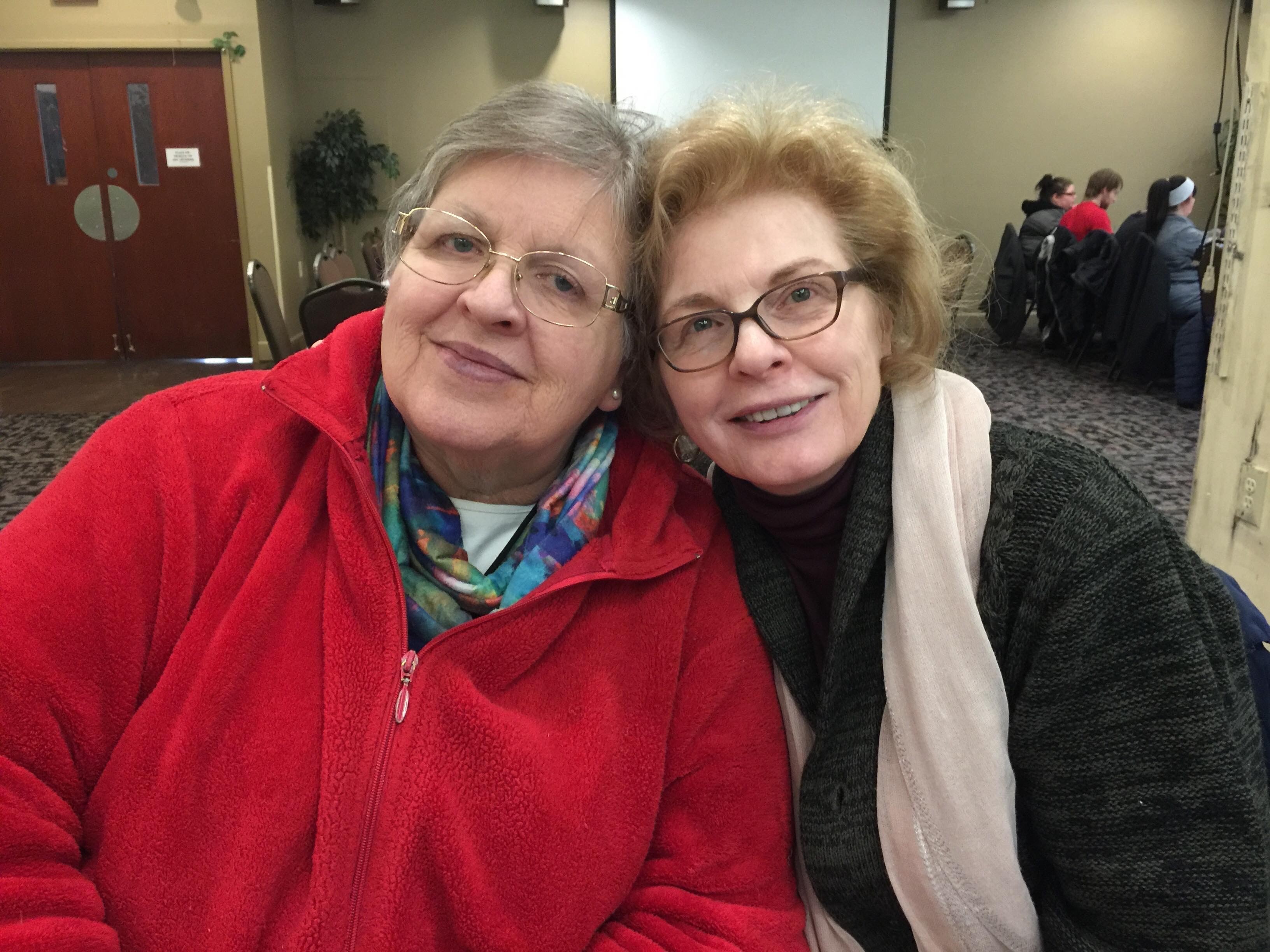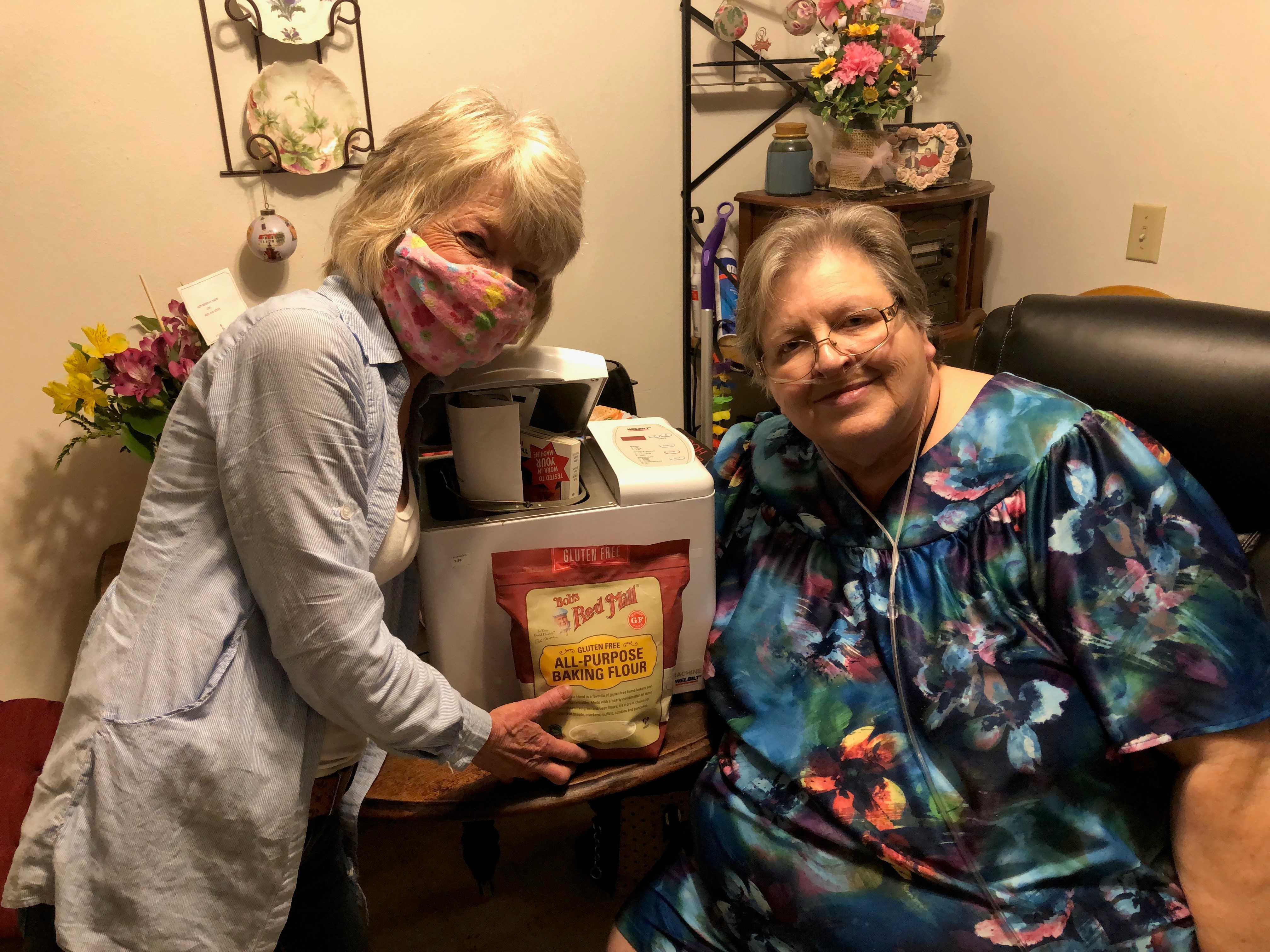 Linda bringing Barb a Bread Makers and Flour for her Birthday.
What was Barb's most memorable experience? Getting married. She said, "Everything was beautiful, perfect, in love, and everything she dreamed of on her wedding day!" Asked her was it easy? Barb said, "Heck no! That commitment you make that day is hard work, ups and downs, struggles, and happiness! That is what marriage is and would not have changed a thing about it!"
What was her most enduring memory of volunteering with Adoray? One time, she was visiting a hospice patient. The wife left to do some errands. The man put his hand on her leg, looked out the window. She put her hand on his hand, and he had a look of peace on his face. Barb said, "I know he passed to the other side that moment. I know he did. And I was so glad to be there to let him know it was okay, with my presence and my touch. I was so happy and humbled to be there! I will never forget that day as long as I live!"
What advice does she have for others? "You're bored, you don't know what to do with your life? The answer is easy, there is somebody that has more pain than you, more struggles than you, poorer than you, whatever it is, go help them, volunteer! Find the passion in your heart and go reach out and do it!"
Now Barb is on Adoray's Hospice herself. How does she feel about that? "I know my time is limited here on earth, and I know I need the help thru my journey with the assistance from Adoray. I so appreciate everything they do for me and the peace they give my family. For that, I am truly grateful!"
Barb, we have had so much laughter, friendship, sorrows, and dang it, just sometimes just dang hard work! You have made a difference in Adoray's life, Treasure's life, Volunteer's life, Patient's lives, and so touched in my life and our friendship. Thank you!
~Linda Booth (Baldwin 2 Treasures Manager) and the rest of the Adoray Family

Send your love and thoughts to let Barb know how much she means to us!
You can send a card for Barb directly to the Adoray Office at (990 Main Street, Suite 1, Baldwin, WI 54002) or email to Brenda at b.bader@adorayhomecare.org
and our team can get those to Barb to share!
Thank you to everyone who has sent their love and care!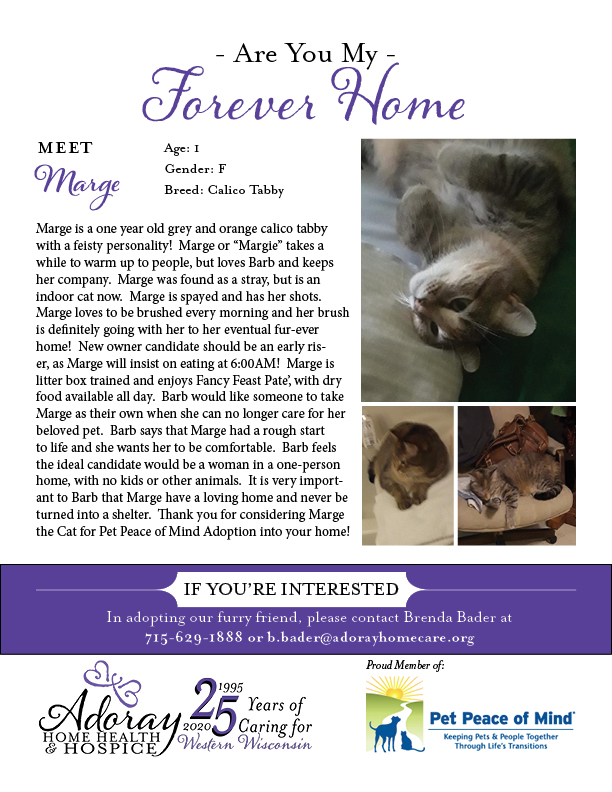 Dear Volunteers,
It seems like a million years since we last saw your smiling faces! We thought it would be fun to share what the store staff has been up to during our exciting COVID-19 Stay-cations! Please enjoy this postcard from Mary Jacobs. We invite you to send "postcards" back and let us know what is new with you! (send yours to a.bettinger@adorayhomecare.org)
Joleen D Larson
Store Manager, Treasures from the Heart River Falls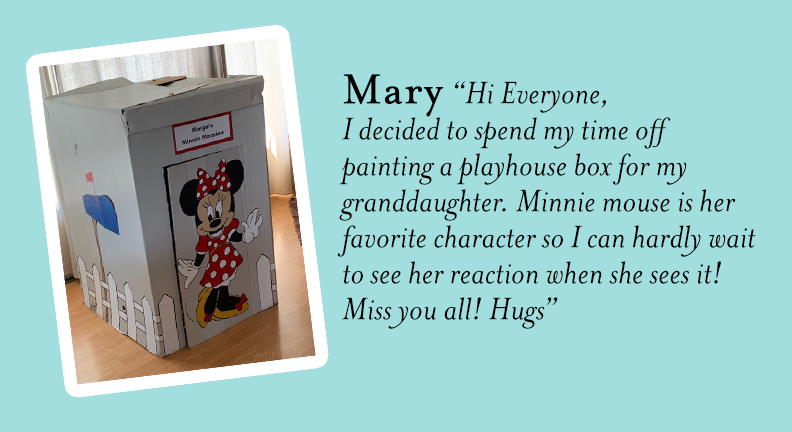 BIG SHOUTOUT & THANKS to all our amazing Adoray Angels for their continued support of helping ensure we have enough PPE. And hands down the most fabulous and stylish PPE in all the land!
From isolation gowns, cloth and see-through masks to ear protectors/mask holders. Thank you all so much for your time and hard work to make these! Know that you are helping care for our team, patients and the community. Thanks to you Adoray has even been able to help our partner facilities and other local businesses from nursing homes and assisted living, Western Wisconsin Health, and funeral homes stay safe and continue to provide their essential services.
We are still accepting and in need of homemade masks and headband mask holders.
For anyone in need of materials please reach out to Joleen Larson at j.larson@adorayhomecare.org or by calling her directly at 612-987-6721 to coordinate a fabric pick-up.
Adoray Crossword Challenge
Complete the puzzle below and send back to Brenda at b.bader@adorayhomecare.org and we will announce the winners in next month's newsletter.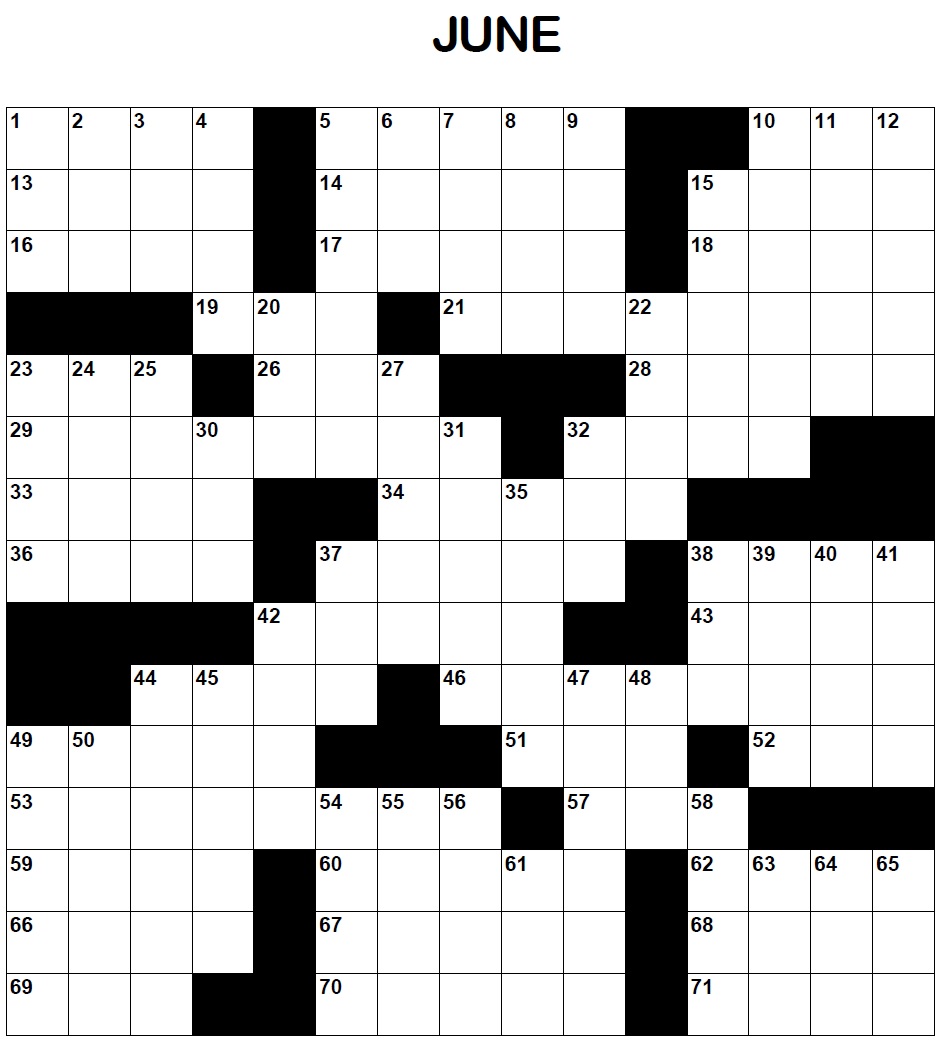 Virtual Suggestion Box
Do you have ideas on how to make Adoray a better place to work and care for patients? Submit your ideas using the virtual suggestion box. This box will be monitored daily and will be forwarded to the appropriate manager for action.
Adoray Home Health & Hospice
990 Main Street, Suite 1 | Baldwin, Wisconsin 54002
7156291888 | a.bettinger@adorayhomecare.org