Michael Kubiak - 1/1
Wayne (Swede) Svoboda - 1/1
Judi Nielsen - 1/5
Robin Olson - 1/5
Julie Lander - 1/5
Jim Miller - 1/6
Mark Willink - 1/7
Peggy Thompson - 1/7
Alyssa Kleven - 1/8
Genny Range - 1/9
Don Nelson - 1/9
Susan Jesse - 1/11
Jessica Schiemann - 1/15
Dan Cain - 1/16
Hannah Luedtke - 1/17
Mike Arendarczyk - 1/18
Mary Smidt - 1/18
Barb Nielsen - 1/18
Ruth Ashwood - 1/19
Tim Jasperson - 1/22
Jan Featherstone - 1/22
Lynn Hartung - 1/23
Jason Swanson - 1/25
Carol Forst - 1/26
Anita Stilwell - 1/29
Donna Licht - 1/30
Sharon Janski - 1/30

Adoray Gala Committee
Interested in helping with the Adoray 2020 Gala that will be held on Thursday, November 5, 2020. Please join us at our first committee planning meeting.
Thursday, January 30th, 12:30 -1:30pm
Please feel free to bring your lunch
We Honor Veterans
Level 4 Celebration
Thursday, February 20
9:30-10:30am
At the Adoray Office
Please join us Thursday, February 20th at the Adoray Office to help celebrate reaching level 4 in the We Honor Veterans program.

All volunteers, but especially our Veteran Volunteers are encouraged to attend.
There will be coffee and breakfast treats and we will be taking a group photo to go with our press release in the paper.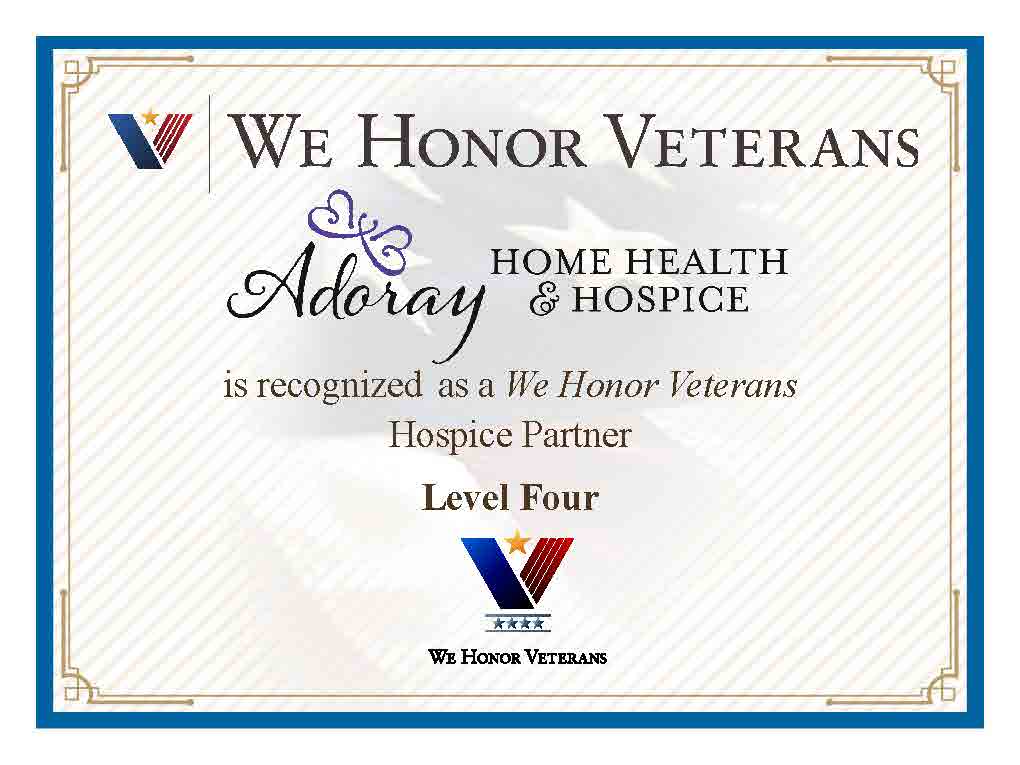 Congratulations on achieving We Honor Veterans Partner Level Four, the highest recognition of this exciting program!
Your latest report reflects your organization's continuing commitment and dedication to ensuring Veterans have access to quality end-of-life care, appreciated by all of us at NHPCO and the hospice community at large.

Celebrating 25 Years of Caring for Western Wisconsin
This year, Adoray is celebrating 25 years of caring for patients in our communities. In honor of this milestone, we would like to raise $25,000 in 2020.
The funds will be used to implement a new Electronic Medical Record system that will allow Adoray staff to better care for patients. We are inviting our volunteers to make tax-exempt donation or pledge this year. By setting aside just a few dollars per month together, you can make a huge difference for our staff and for the care of our patients.
You are invited to give any donation that you wish, below you will find a few suggestions of pledges you can make each month that will make a BIG impact in 2020!
$5.00 per month= $60.00/year
$10.00 per month = $120.00/year
$25.00 per month = $300/year
$50.00 per month =$600.00/year
$75.00 per month = $900.00/year
$100 per month = $1200.00/year
Donations can be paid in full or paid monthly using our automatic payment processing system. For more information or to get a donation pledge form, please contact Amber Bettinger at a.bettinger@adorayhomecare.org, 715.629.1922 or stop by the office.
With Gratitude,
Kelsey Derrick, Executive Director

2020 Greetings, Hospice Volunteers!
Hope you are all well and had a nice Holiday season, and I also hope that the beginning of 2020 is a good one for you. This year in 2020, Adoray observes our 25 Anniversary. Hooray for us! We are honored to be serving patients and families in our Western Wisconsin communities for 25 years. Stay tuned for special activities to celebrate. Also, as a reminder with the new year, please send in any straggling charting forms for visits that you completed in 2019. That way we can close the 2019 records and move on to 2020. Finally, last call to set up your Adoray email address. Let me know if you wish to set up your email – maybe you are having some difficulty and if so let me know. If I don't hear from you or you will not be using the email, we will be removing your email address from our list of users.
Please make note of some 2020 activities and meetings for Hospice Volunteers (Dates may be subject to change – please verify prior to the meeting date):
WHV Level 4 Celebration Thursday, February 20 at 9:30 – 10:30
All volunteers, but especially our Veteran Volunteers are encouraged to attend a special event at the Adoray office to celebrate our new designation of Level 4 in the We Honor Veterans program.
Mandatory Training, Tuesday, April 14 at 9:00 am – 11:00 am
As part of your agreement to be a hospice volunteer, yearly mandatory training is required to remain a hospice volunteer. Training will be held at the new Adoray office in the large conference room. Let me know if you plan to attend. If you wish to complete your yearly training online, a request will be sent to you by email soon, using an online product called Relias. This training can be completed on your own computer on your own schedule, but must be completed before April 30. If you are a new volunteer in 2020, you are not required to complete mandatory training this year.
We Honor Veterans Annual Training: Thursday, April 2, 2020 and Thursday, September 17, 2020. All veterans are required to attend at least one of these sessions in 2020.
Ongoing Education – Stay tuned for dates and times!
Hospice Volunteer Spotlight
The Peace in the Valley Singers
The Peace in the Valley Singers visited many area facilities in December, bringing Christmas cheer to patients and to residents.
Thank you to singers Karen Eno, Ruth Ashwood, Kathy Norden, Theresa Gibson, Gloria Schaller, Nancy Hildreth and Dawn Marquart.
Here they are, singing for residents at The Deerfield in New Richmond.
New at all Treasures Stores
Double the Punches Wednesdays!
Get double the punches on your loyalty care for every $20 or more you spend.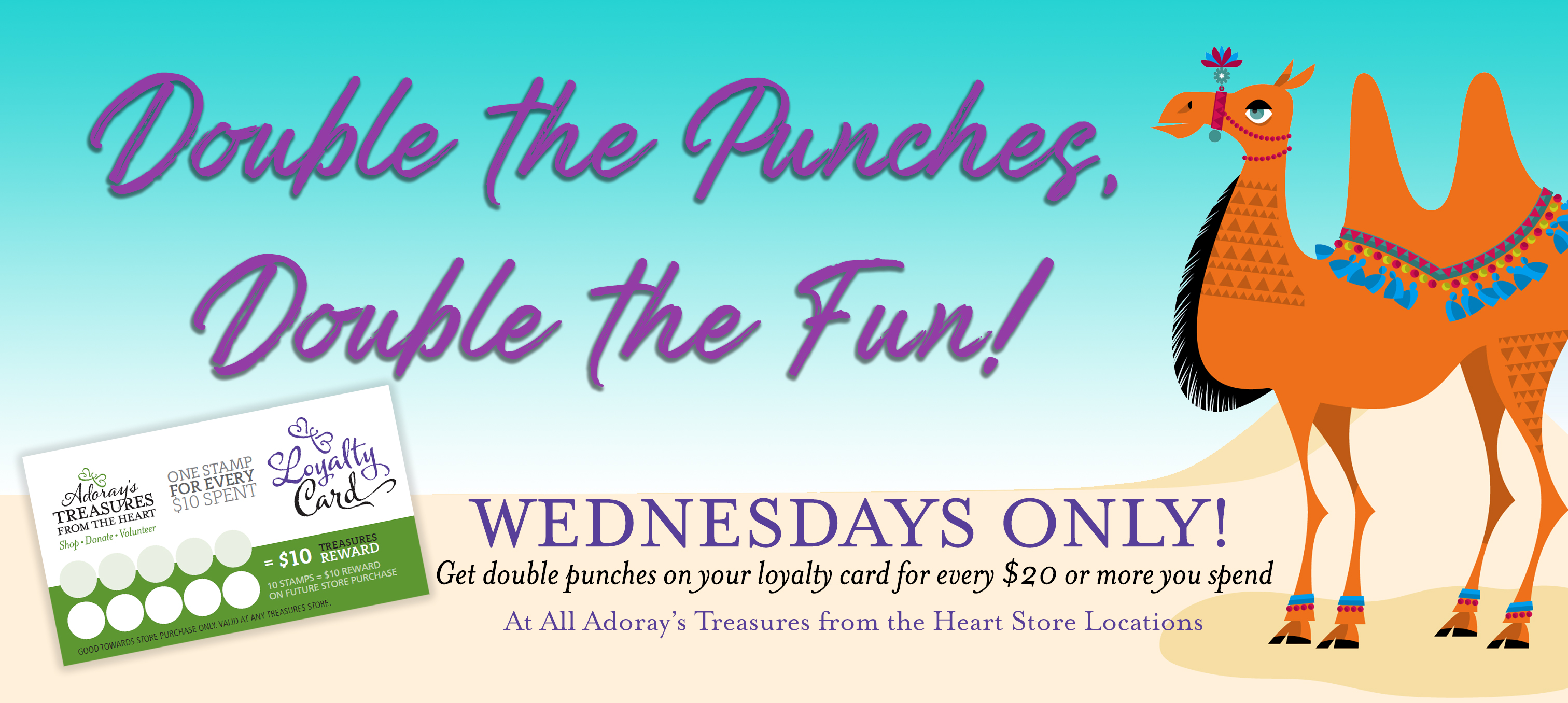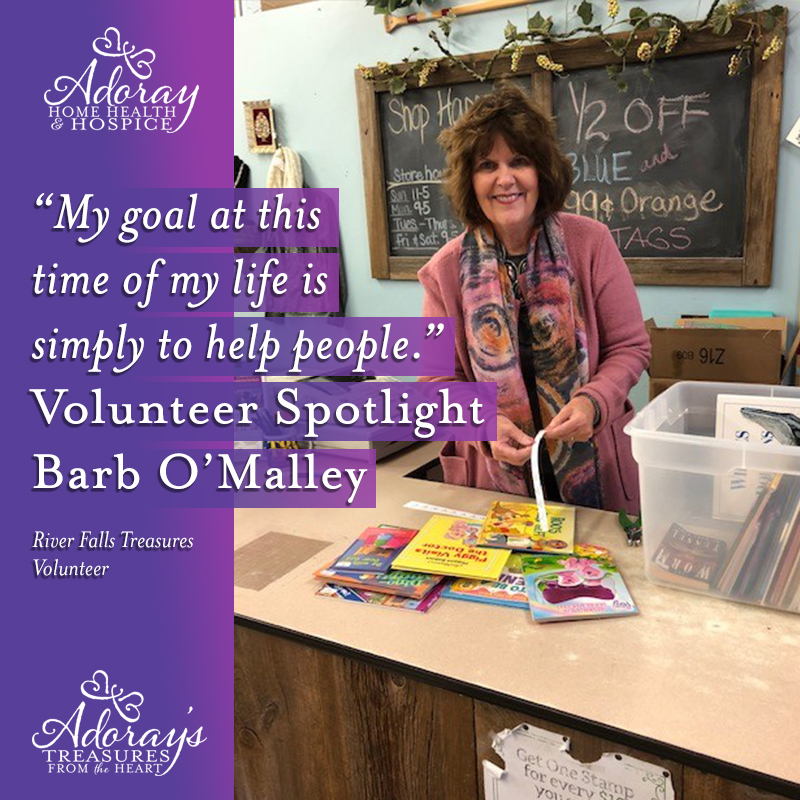 Volunteer Spotlight
Meet
Barb O'Malley
Barb is one of the most unassuming and kind people you can ever meet. She genuinely cares for her fellow man. When asked about her reasons for volunteering she simply said, "my goal at this time of my life is simply to help people". And help she does.
At Treasures in River Falls she can be found welcoming shoppers as she cashiers or performing any other task we require.
She cuts price tags, tags the 25 cent books, straightens the floor and fluffs the window displays. She has a keen eye for color and style and helps fill in the jewelry.
And amazingly she has been found on her hands and knees cleaning our bathrooms! Now that is dedication! You always know when Bard has cleaned the bathroom because a.) it never looks that good and b.) she folds the tissue and paper towels into these wonderful triangles just like the fancy hotels! We really appreciate it and our volunteers and shoppers do too!
When she is not volunteering at Treasures Barb can be found visiting friends at the nursing home, delivering Eucharist to those who are shut-in or ill, shopping for those who can not shop for themselves and for over 39 years she has taught Faith Formation at St. Bridget's church in River Falls.
Barb and her husband Tim have 5 children and 7 grandchildren. Spending time with family is a big part of Barb's life. At the time of this interview, she was getting ready to celebrate their extended family Christmas with over 60 folks coming and gathering in a local hotel to celebrate the season, family and the New Year. What fun!
We invite you to stop into the store at Treasures and meet Barb. She has the warmest smile and biggest heart you can imagine. Thank you, Barb for all that you do for us and the many other folks you have taken under your wing. Happy New Year!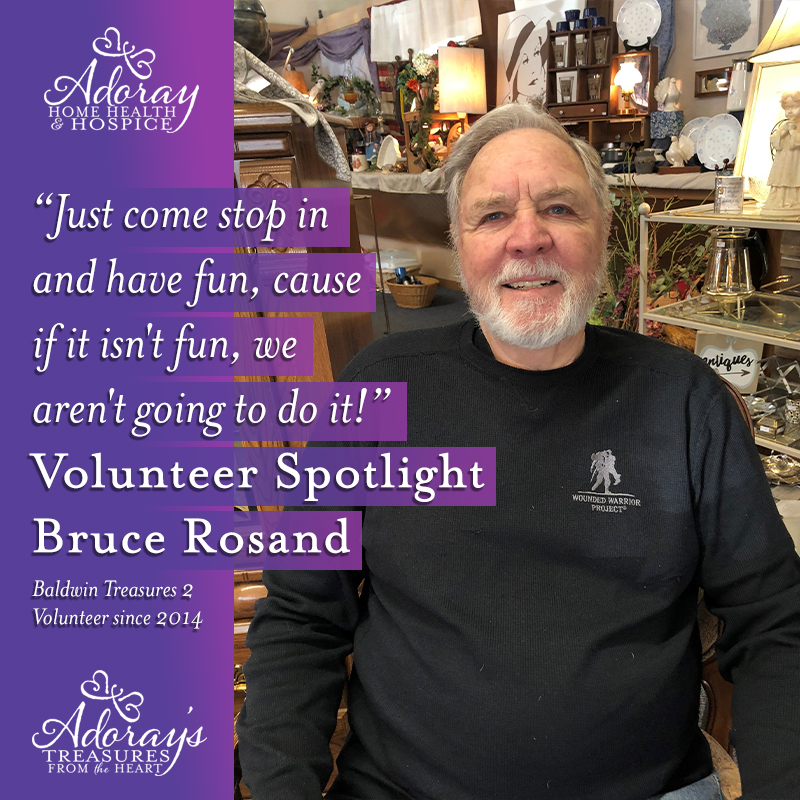 Volunteer Spotlight
Meet
Bruce Rosand
Bruce started as a volunteer in 2014, after moving to Hammond with his lovely wife, Trudy. They have four wonderful children, 10 precious grandchildren, and 2 great grandchildren. Prior to volunteering at Treasures, Bruce graduated in 1960 from Duluth East and then proceeded to enlist in the US Navy. In the Navy he was a Plank Owner of the original crew of USS Okinawa LPH3 which was in the Cuban Blockade. After leaving the Navy, Bruce worked for MNDOT for 38 years as a sign designer, and 30 years during the same time owned a commercial cleaning business in the twin cities , He is an ambitious one!
Bruce always has a smile on his face, full of energy, and always has some crazy saying on his tee shirt! Bruce's job is hauling out garbage, bringing merchandise to and from both stores, maintaining our rental shed, and last year he took on Treasures II garage sales! WHEW!
Bruce's most memorable moment at Treasures II was when he approached a puzzled looking man and said, "How can I help you?" The man replied he was looking for dresser. Bruce took the man to the shed and he ended up buying not only one but five pieces of furniture! The man thanked Bruce over and over and walked out with a smile on his face and a truck full of furniture.
Bruce how would you encourage other men to volunteer? "We always need help moving stuff, repairing furniture, trying and testing small appliances, etc. We can always find some work to do. Just come stop in and have fun, cause if it isn't fun, we aren't going to do it!"
Bruce's most favorite thing to do? Spend time with his wife, family, golf, and Treasures, and yes, in that order.
Thank you, Bruce, for everything you do for us, your service to our Country and always with a smile on your face!
Virtual Suggestion Box
Do you have ideas on how to make Adoray a better place to work and care for patients? Submit your ideas using the virtual suggestion box. This box will be monitored daily and will be forwarded to the appropriate manager for action.
Adoray Home Health & Hospice
990 Main Street, Suite 1 | Baldwin, Wisconsin 54002
7156291888 | a.bettinger@adorayhomecare.org