Theresa Gibson - 10/1
Carole Lynum - 10/3
Patricia Kolman - 10/3
Margaret Strehlo - 10/3
Toots Holle - 10/6
Ella Schutz - 10/7
Nancy Firth - 10/7
Lila Schwartz - 10/7
Bea Hennessey - 10/8
Alex McCray - 10/9
Marsha Nadeau - 10/9
Bonnie Crisp - 10/9
Laura Swanson - 10/10
Nancy Nichols - 10/10
Roger Proch - 10/11
Vickie Jensen - 10/13
Dorothy Holm - 10/14
Phyllis Riehle - 10/14
LaVonne Larson - 10/15
Pam Oman - 10/15
Kevin Booth - 10/16
Dorothy Eggen - 10/16
Lois Mae Zezza - 10/17
Terry Nesvold - 10/18
Serena Cronk - 10/18
Lois VanSomeren - 10/19
Allyson Nelson - 10/21
Evelyn Rademaker - 10/22
Katherine Ellis - 10/22
Debby Walters - 10/23
Mary Kay Schaffner - 10/23
Marlene Eggen - 10/24
Patricia Berghammer - 10/25
Mary Frey - 10/28
Karen Eno - 10/29
Tessa Van Someren - 10/29
Greg Corrigan - 10/30
Cynthia Bennis - 10/30

We are excited to announce that we are moving our corporate office to the upstairs of the First Bank of Baldwin.
The new address is 980 Main Street, Suite 1, Baldwin, WI 54002. The new office will open for business on Monday, November 4, 2019.
If you are interested in volunteering to help with the move, please contact Amanda Gustafson at 715-629-1914.

Suicide Awareness and Action Steps
For Adoray Staff and Volunteers
Thursday, November 14, 2019 | 9-10am
First Bank of Baldwin, 990 Main Street Baldwin, WI
Lower Level Conference Room
With Dr. Chris Babbitt, PSY.D., LP
Please plan to attend an Adoray educational in-service on suicide and the role we have in supporting our patients and family members who may struggle with mental health concerns including suicidal thoughts or history. As we care for the whole person in our home health and hospice programs, it is critical we have the tools to identify and respond appropriately to any indications of self-harm.
Dr. Chris Babbitt, PSY.D., LP Executive Director of Western Wisconsin Health Behavioral Health Services will present information on suicide including differentiating suicidal ideation and suicide risk and a flow sheet tool for responding appropriately.
This training is designed for all of the Adoray team – volunteers and staff, as we work together for the well-being and safety of our patients. Please mark your calendar now and plan to attend.

Greetings to October, Hospice Volunteers!
Hope you are enjoying these cool Autumn days.
Update: Adoray Email Addresses for Hospice Volunteers
We have currently successfully completed set up a number of Hospice Volunteers with their own Adoray email address. Your personal Adoray email address will keep patient information private and be compliant with HIPAA regulations. Let me know if you need help or additional instructions to complete the installation of your Adoray email address – it can be completed at any time with your computer or smart device.
Please note, if you do not wish to access or use an email mode of communication, you are not required to do so – you may still receive and send paperwork by regular mail as usual for patient assignments. However, if you are interested in using an Adoray email address for communication, please let me know.
Reminder that no patient information with names can be sent through your personal home email address.
Thank you!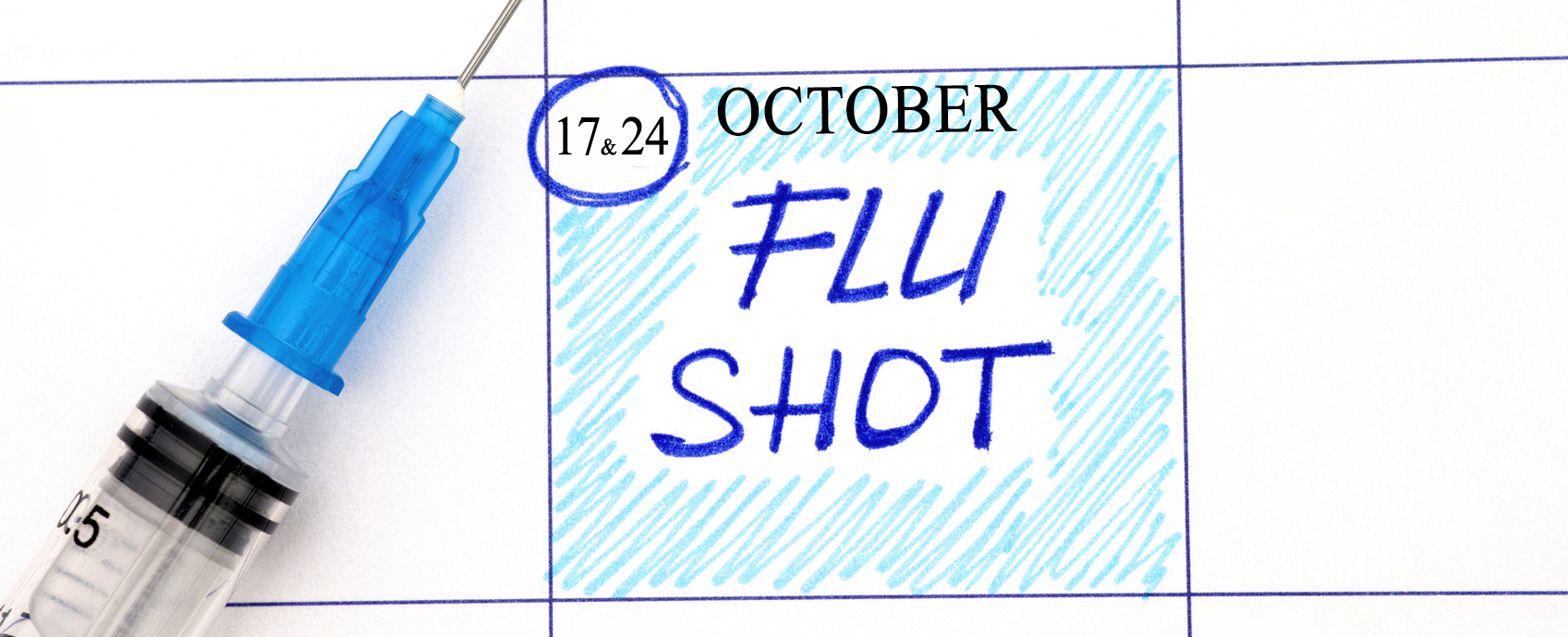 Flu Vaccinations
We will be offering flu vaccination on the following dates/times at the Adoray Office in Baldwin, break room area:
Thursday, October 17: 10-4:00 pm
Thursday, October 24: 9-4:00 pm
There is no appointment required. Just stop by when it is convenient for you. If you receive the flu shot on your own, please send me a copy as documentation for your file.
Why get a Flu Vaccination:
Any employee/volunteer can transmit influenza to our patients. Transmission is likely to occur before one even begins to feel ill.

The CDC, the World Health Organization, and too many organizations to even name all support influenza immunization for all health care workers.

Our patients trust us to protect them from influenza while we are in their home or facility.
What to bring:
Adoray will cover the cost of the flu vaccination at 100%. There will be no out of pocket expense to you.
Flu Vaccination Waiver:
While we strongly encourage staff to get the flu vaccination, anyone unwilling or unable to be immunized need to complete a waiver form. You may request this form from Amanda Gustafson in Human Resources. You are required to wear a mask around any immunocompromised patient.
What to do if you have the flu or you are sick?
Stay home, if you are unable to stay home you must be wearing a mask while in the office, facility, or around patients.
The Adoray Office is Moving!
Adoray is moving the week of October 28th with our new office being open for business on November 4th address: 990 Main Street, Suite 1, Baldwin WI 54022, which is the second story office above the Bank of Baldwin. We are currently working on packing up and getting ready for our new location. I will be working from home the week of 10/28/19 and so if you need to contact me during that time, please feel free to send an email l.lifto@adorayhomecare.org or by my office phone number 715-629-1905 or by my personal telephone number 651-324-6357 if there is more urgency. I will be in the new office on Monday, November 4. Want to check out our new offices? I would love to see you, so stop in any time. There is also a happy hour for staff and volunteers at the new office on Thursday, November 14th from 3-5 p.m. and a ribbon-cutting open house on Friday, November 15th from 8-10 a.m.
Hope to see you soon.
When you feel terrific, notify your face.
Don't let weeds grow around your dreams.
Remember that great love and great achievements involve great risks.
From "Life's Little Instruction Book", H. Jackson Brown, Jr.
Let me know how I can be of service to you by calling me at 715-629-1905 or email at l.lifto@adorayhomecare.org. Meanwhile, I'll be in touch with you as normal with phone calls, texts and emails for your next hospice volunteer assignment.
Blessings! Leann Lifto, Adoray Hospice Volunteer Coordinator

Thank you!
Thank you to all the volunteers who came together at our Volunteer Picnic Sunday, Sept. 22. You all brought such delicious treats. I am sure we all gained 5 lbs.! It was great fun to share time with all of you. We are so grateful to have you in our stores and in our lives. Our stores thrive because of all the little things you do each and every day! We can not thank you enough for sharing your time and talent with us. As we enter this season of "Hallo-Thanksmas", we are reminded of how truly special you all are.
Have a wonderful fall! - Joleen, Jenny, Emily, Kaylee, Jane, Marcia and Lisa
Adoray's umbrella of care and commitment to our communities goes beyond those we are privileged to care for and our shoppers.
Read the Thank You note we received to see how one of our River Falls Treasures volunteers Brenda McDaniels brought some sunshine to a family outside our store on a raining day.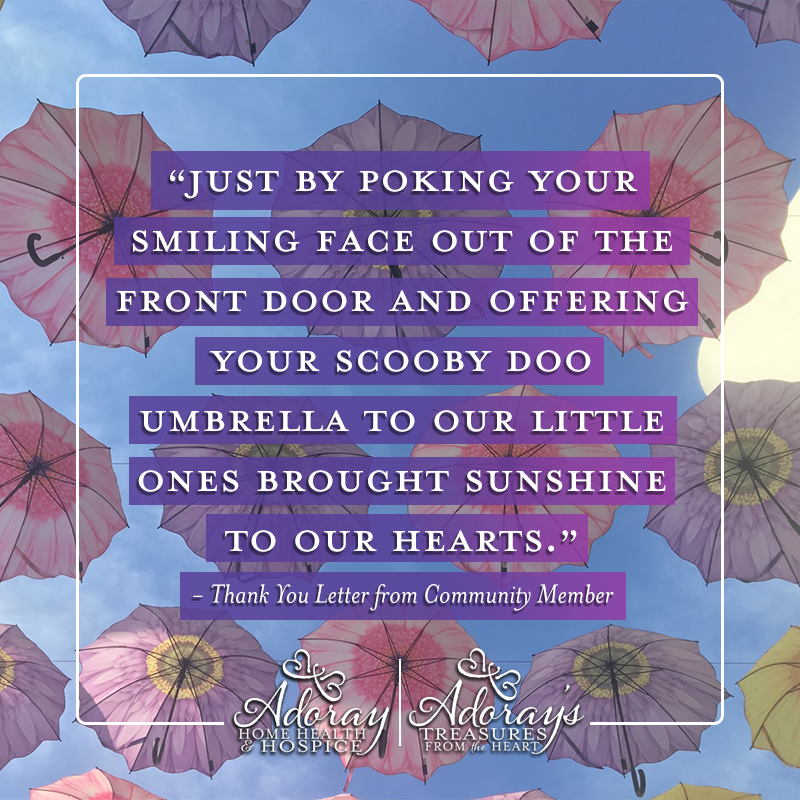 "This little note is coming to your quaint shop to thank you for your kindness. On a super rainy day our family was standing on the corner in front of your store desperately trying to gather our books and instruments for our violin lessons.
Just by poking your smiling face out of the front door and offering your Scooby Doo umbrella to our little ones brought sunshine to our hearts. We thank you so much for your genuine kindness. We just wanted you to know how far a little kindness went that day.
P.S. My granddaughters new favorite thins is her Scooby Doo umbrella."
Osceola has had some really nice Sales weeks this Fall - THANKS TO YOU, VOLUNTEERS! Keep up the good work.
Mark your calendars for Monday, October 28 9am-5pm will be our Holiday Decorating Day here at the store. We need your creativity! Please come at any time during the day. We will not be open for business, rather decorating all day long...and eating, of course. Please bring a potluck item to share (signup at the store). This is always a fun day, so you won't want to miss it!
Halloween Main Street Treats - Oct 31 10am-2pm. We will be handing out treats for kids and a coupon for parents to shop. Let us know if you can help!
Doe on the Go is November 22-23 in Osceola. We can use as many hands as possible on those days. Sign up next time you are at the store.
Holiday Bake Sale - Friday Dec 6 & Saturday Dec 7. Sign up at the store to bake, arrange goodies on plates/tins, or to work the sale.
2nd Annual Kids Shopping Day - Saturday Dec 7. If you are interested in helping kids "secret" shop for their family or wrap presents, please let Joyce know!

Calling all Adoray Elves!! WE NEED VOLUNTEERS TO HELP set-up the Christmas store at Baldwin 2.
If you are available (for even an hour) anytime from 9:00am – 5:00pm this Friday, October 18 – Monday, October 21 please come help!
Feel free to bring a snack to share or just your jolly holiday spirit to help turn the store into a winter wonderland!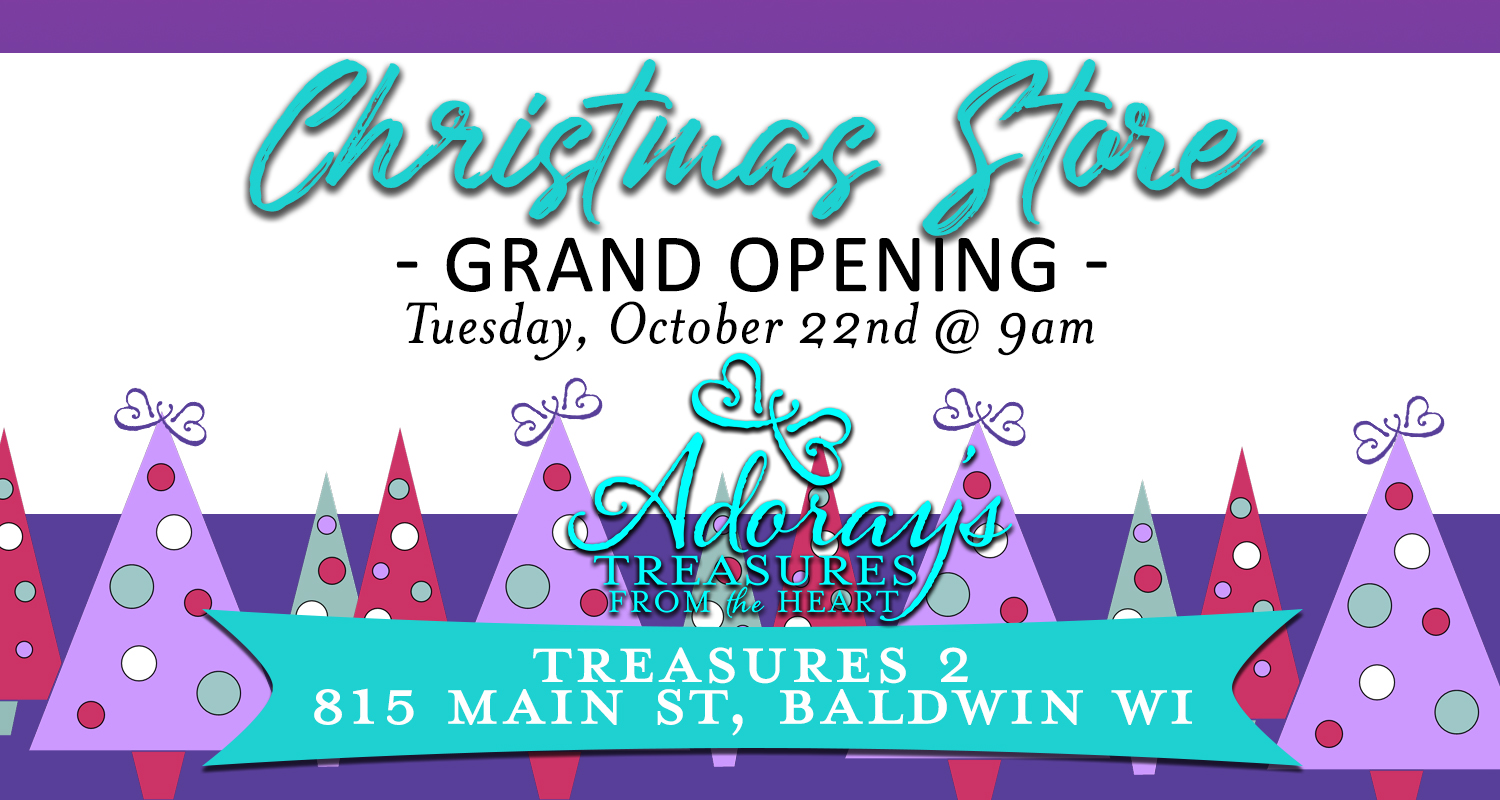 Virtual Suggestion Box
Do you have ideas on how to make Adoray a better place to work and care for patients? Submit your ideas using the virtual suggestion box. This box will be monitored daily and will be forwarded to the appropriate manager for action.
Adoray Home Health & Hospice
2231 HWY 12, Ste 201, | BALDWIN, Wisconsin 54002
7156291888 | a.bettinger@adorayhomecare.org