Dear Volunteer Friends,
Here we are, in the final third of the Summer months here in the Midwest. I hope you have been able to be outside and enjoy the beautiful days. Nature can provide us with so much joy and healing!
I have been reflecting, lately, on what can bring joy in the everyday moments of life. The answers to this question vary greatly for each of us. For some, it is their spouse or grandchildren. For others, it is a nice meal or a scenic walk on a calm evening. Whatever it is for you, I encourage you to hold these moments close to your heart and gain strength from them.
For me, I like to think of things that put a smile on my face. A small child laughing, my dog running at the dog park, in the country looking up at all the stars in the clear night sky, my daughter's wedding (see picture) and her beautiful happy expression, hearing from a good friend that all is well. All of these things have the opportunity to be a "day changer." I can put my thoughts toward these life moments, and actually have a better day because of it.
In the enclosed article, Finding Joy in the Work and Mission, it states that, "True and profound joy is found when your focus is not on yourself, but on others. As the Dalai Lama said, 'this is the secret to happiness.'" The article goes on to say that caring for others doesn't always feel joyful, but we rely on each other and work to find the joy in the vast job of caring for others. No matter what your role is as a Volunteer and member of your community, you serve to fulfill this secret to happiness. Focusing on others can help relieve the stress of uncertainty that we all face day-to-day. So, we can say at the end of the day, I found joy in the journey of life, as part of a care team that focuses on others' comfort.
For you, I am truly thankful. We have a common theme, you and I. That secret of joy, found when we focus outward toward others, as we do everyday in Home Health and Hospice care.
Be well and live your joy,
~Brenda
Finding Joy in the Work and Mission
In 2016, His Holiness the Dalai Lama and former Archbishop Desmond Tutu spent one week together in deep discussion about joy. How to obtain it and hold on to it in a changing and often chaotic world.

One theme emerged time and again: True and profound joy is found when your focus is not on yourself, but on others. As the Dalai Lama said, "this is the secret to happiness."

In these chaotic, anxious, and exhausting days of the COVID-19 pandemic, we in health care have seen living proof of this secret to happiness daily, with profound clarity and in awe-inspiring ways.
But, truthfully, we know it hasn't always felt joyful. Not in the face of too many cases and not enough resources … too much suffering and death … and innumerable concerns and uncertainties.
We worry. But in that worry we discover a wellspring of compassionate care. And in that care is where we find the joy. It's why we keep showing up to do this demanding and difficult work. It's why we're driven to be problem-solvers, fixers, healers and caretakers.
No matter your specific role in the bigger picture, we are all health care professionals, called to provide the leadership our communities and patients desperately need to get through this national crisis. And that means relying on each other, caring for one another and constantly striving to find the joy in the immense job at hand.
COVID-19, the economy, health care disparities, legislation, an election and a toxically divisive cultural environment … it's all interconnected. It's all critically important. And it's OK to acknowledge that it's also all exhausting. Because it is.
And that's why it's more important than ever to make sure that while we are focused on caring for our patients, we don't lose sight of the need to care for one another … within our own hospitals and health systems, as well as with those across town and across the country.
Our journey still-to-come for COVID-19 in the U.S. is expected to be long. But with a dedication to kindness and a commitment to service with compassion, the joy in what we do will always be present, and it will help us stay focused, motivated and working together toward the ultimate end-goal. I know we all look forward to reaching that day, together.
Melinda L. Estes, M.D.
AHA Chair
Seeking Volunteers to help sew Remember-Me-Bears
If you would like to volunteer to sew items,
please contact Adoray's Grief Support Coordinator at 715-629-1888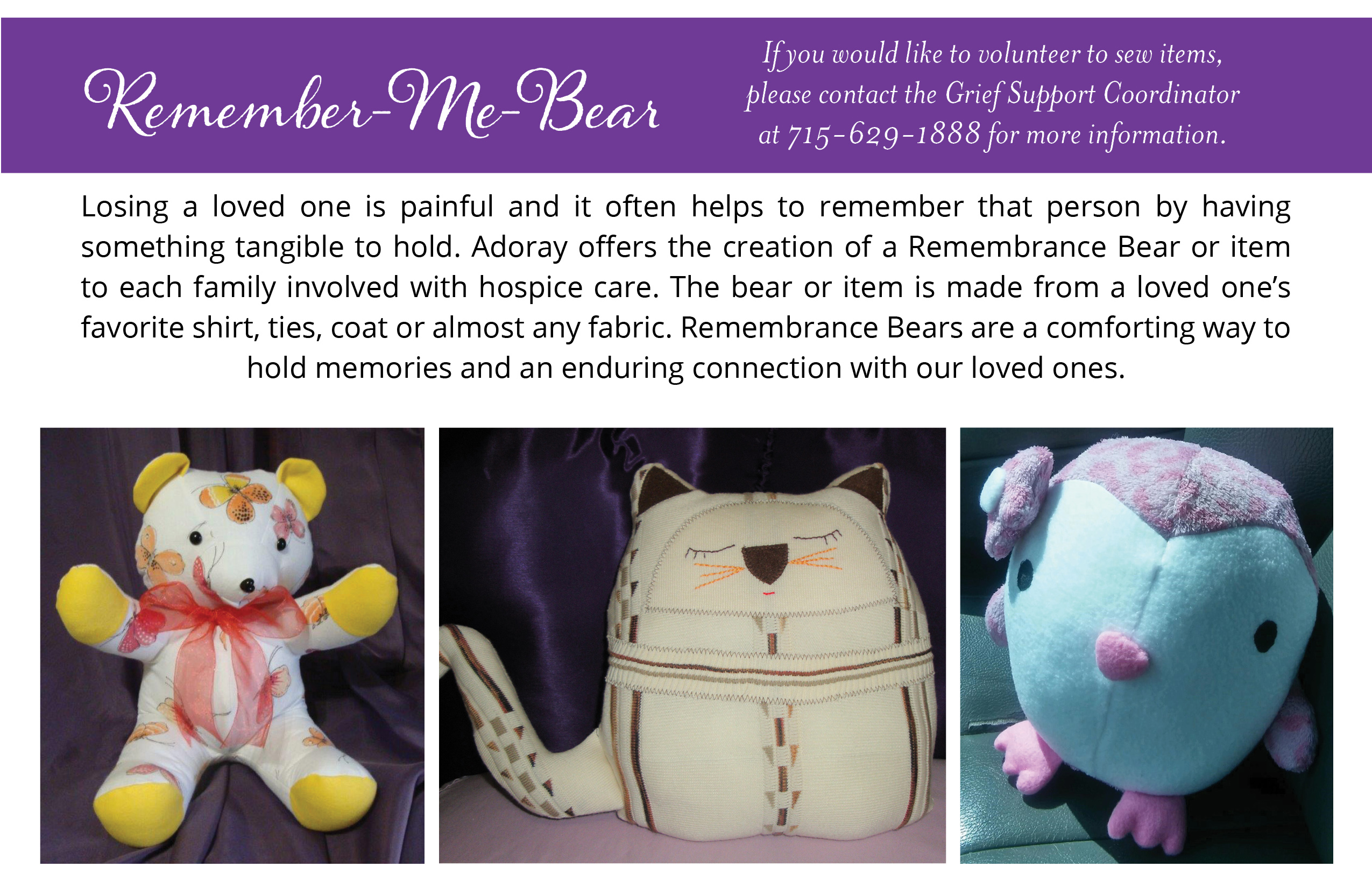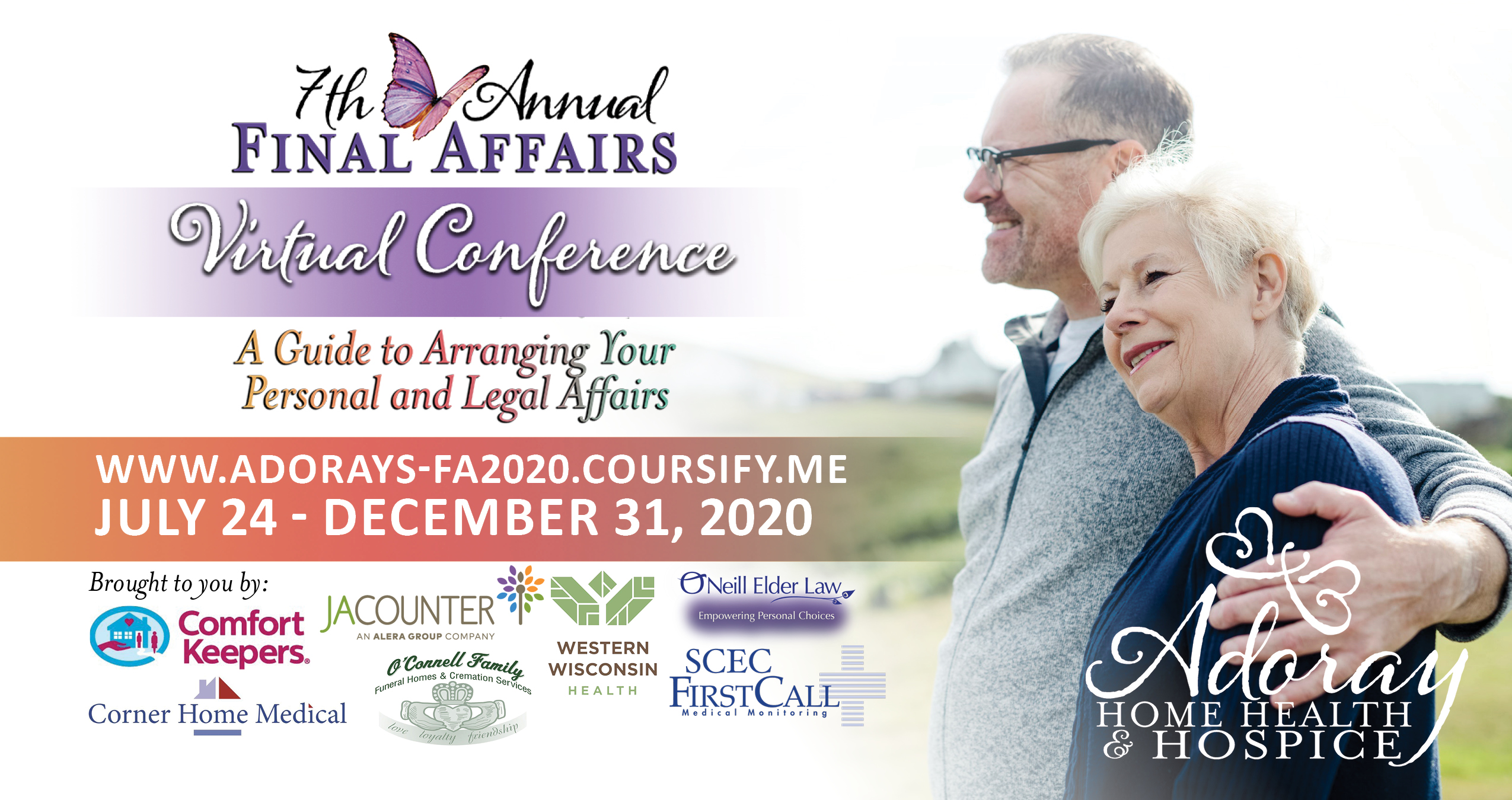 Adoray Home Health & Hospice, along with our wonderful sponsors are excited to present this opportunity that brings community members and experts together for convenient online learning.
All to help community members consider options, learn about local experts and explore issues regarding personal, financial and legal decisions as they age.
We invites seniors, caregivers, adult children, community members, professionals, and anyone who wants to learn about local resources pertaining to life's final affairs.
The conference site is available free 24/7 now through December 31, 2020. Be sure to come back often as new lessons will be added, and don't hesitate to reach out to our teachers to learn more about their great services.
Visit the Final Affairs Virtual Conference site Now! https://adorays-fa2020.coursify.me/
Dear Volunteers,
We are still in search for a forever home for Marge.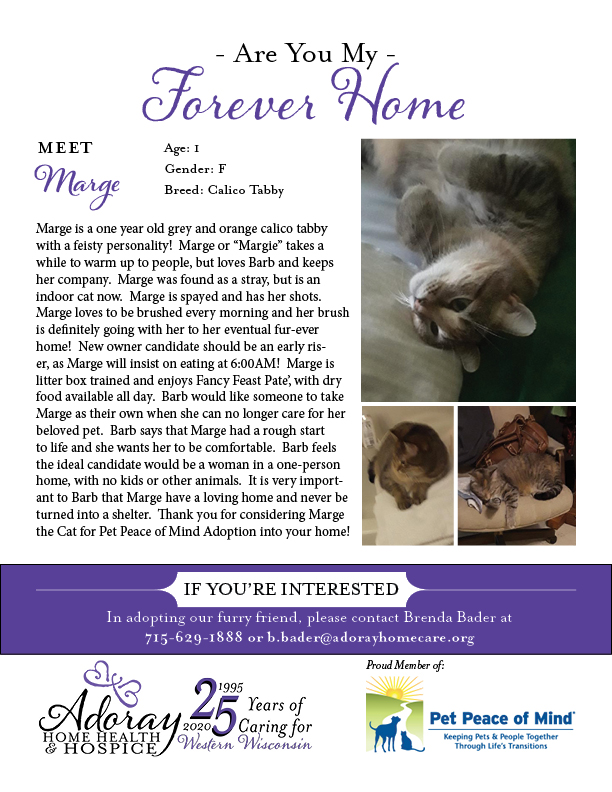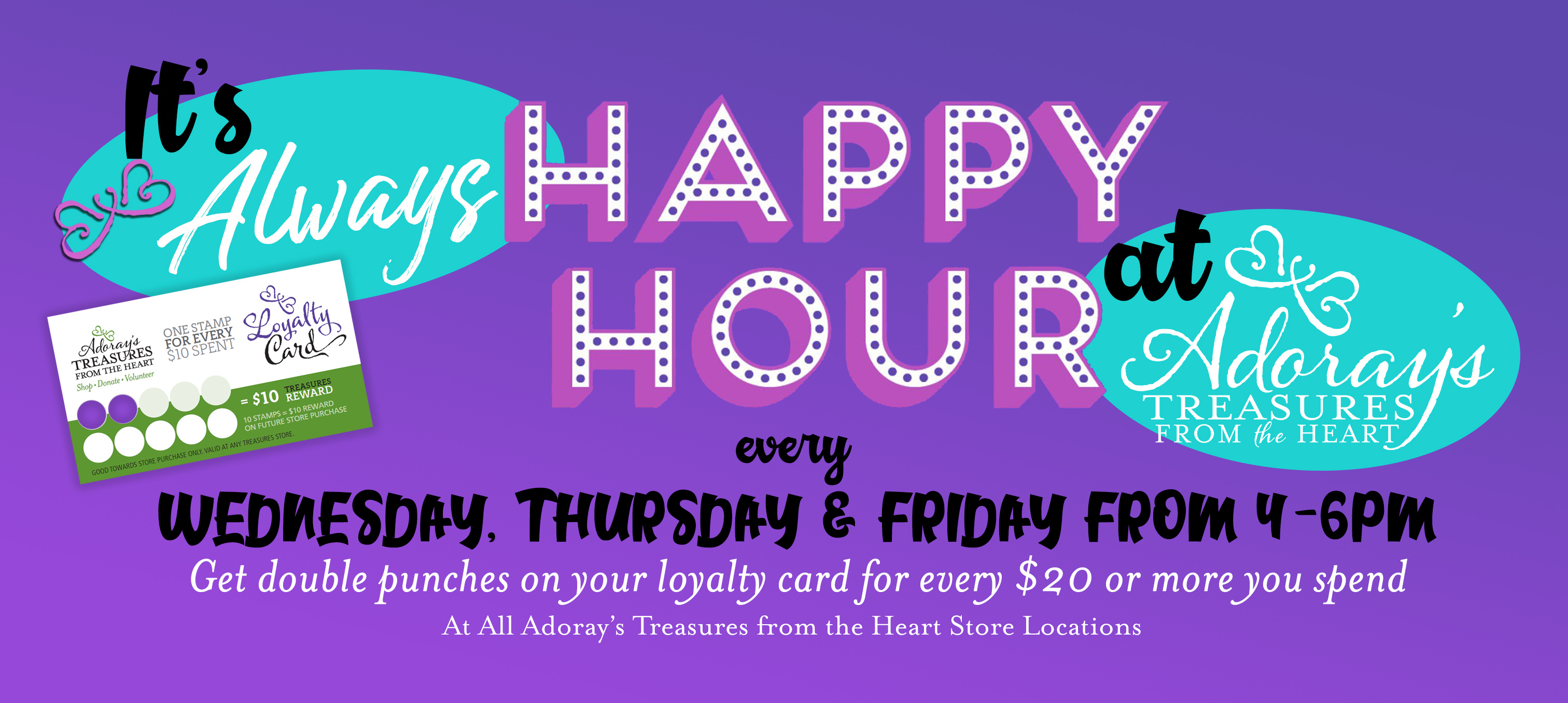 Hello!

It's August already and you can feel the change in the morning air. A bit cooler in the mornings and the sun is setting a bit earlier in the evenings. The stores are clearing out the summer merchandise and the fall merchandise is starting to appear. It's a great time to visit the stores for a bit of retail therapy.
The stores continue to sanitize and clean in order to keep our volunteers and shoppers safe. As of Aug. 1, we are following the Governors orders and all volunteers are required to wear masks and practice safe distancing when volunteering in the stores. This may mean you can't just drop in to volunteer as space is limited to maintain safe distance, so make sure to sign up on the volunteer calendars or check in with the store managers before you just show up. We understand that masks are inconvenient, not comfortable , let's be honest they are a pain...but they are required if you wish to volunteer. Please speak to your store manager if you need further clarification.
What a crazy few months it has been. It seems everyday there is something new to contend with and some days there is! We appreciate each one of you. Change is hard. Change in uncomfortable. Change can be over whelming. Change can also be the door to new opportunity and discovery. Be like a flower. Survive the rain but use it to grow.
Thank you for sharing your time and talents with Adoray!
Joleen
Volunteer Spotlight
Sarah Huang
It is with great pleasure we introduce Volunteer Sara Huang. This 16-year-old insightful dynamo has been just a delight to have join the Treasures team during this challenging time. Sarah inquired about volunteering as part of the National Honor Society requirement of service to community. One of the first things she said her first day was, "I was thinking you probably could use some help due to the pandemic." Insightful indeed!
When getting to know Sarah you fist notice her warm smile, but you soon realize there is more to that story. Curious would be a great word to describe Sarah. The entire staff has enjoyed looking at our daily activities through Sarah eyes. Simply tagging linens has turned into a discussion on past times when homes were furnished with upholstered furniture donned in hand crocheted doilies to protect the fabric, something the elders of the staff take for granted, but all knew to a 16-year-old. Looking at how each piece is put together and how much work must go into each one, as well as how beautiful they are – these are the things we sometimes overlook as we scurry about trying to get everything tagged. Her joy in learning new tasks has rubbed off on us and is a welcome release during what has been a most challenging time. Her curiosity is contagious!
Eager to learn and try new things Sarah tags clothing, works the front-line register, steams clothes, washes dishes, cuts tags and pitches in pretty much anywhere she is needed without hesitation. She is a hard worker. She has worked at McDonalds for 2 years and was a crew trainer at age 15 and is currently a crew manager.
When asked why she likes volunteering Sarah explained it is a good way to be involved in the community. She is also developing great people skills, working with folks of all ages and backgrounds.
Sarah's family moved to River Falls from Taiwan when she was 4. She is the youngest of 4 children and has two brothers, ages 25 and 21, and a sister that is 19. Her favorite subjects in school are Math, Statistics and Algebra. Surprisingly, she likes these subjects not because they are the easiest for her, but because they challenge her and the principles apply to real life. She loves problem solving and finding conclusions. She sees a career in accounting, finance or business in her future.
Sarah will be successful at what ever the future holds. She asks great questions and her curious nature will take her far. We are grateful to Sarah for sharing her time and talent with us at Treasures. Thank you!

Volunteer Spotlight
Pat Sawyer
Pat Sawyer recently retired and chose Adoray's Treasures From the Heart as the non-profit she wanted to give back to locally. Pat volunteers with us "behind the scenes" as she spends her time in the basement, sorting the off-season clothing. We love Pat's efficiency and her ability to take charge of the sorting task, which is daunting to most of us. Pat enjoys meeting other volunteers and says everyone is friendly and helpful and she really enjoys getting out and working for a good cause! When Pat is not at Adoray (2 days/week), she enjoys sewing and knitting. She is a fan of "Big Brother" and "Survivor" tv shows and loves her 3 granddaughters dearly. Not a fan of getting her picture taken, we chose to photograph Pat's fine display of organizing! Thank you Pat - You are a Treasure to us!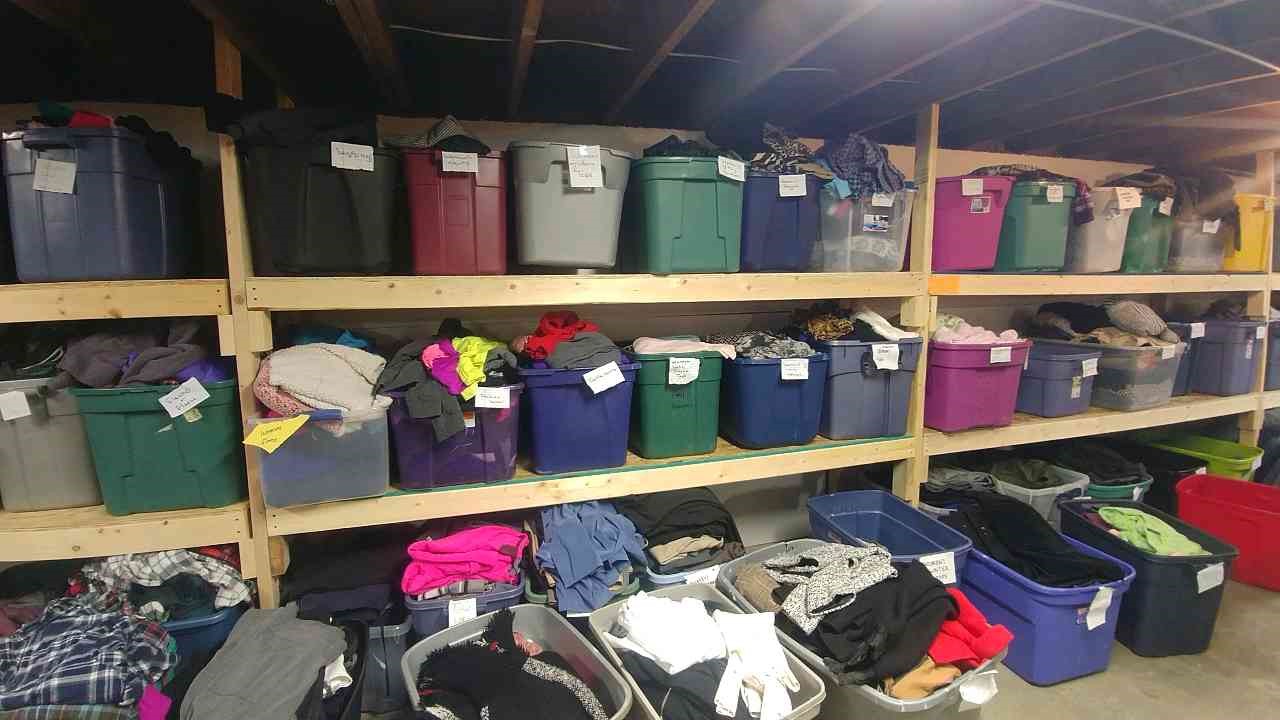 This week, the Osceola Middle School gave away their old lockers to anyone interested. With the help of volunteer, Jason, we were able to obtain 4 of them. Now our volunteers have a safe place to stash their personal items and "treasures" they find during the day.
Thank you Jason!
Adoray Puzzle Challenge
Congratulations, once again, to River Falls Treasures Volunteer, Kathy Svoboda, for answering all of the questions correctly on the July Crossword puzzle.
She will receive a little surprise in the mail from me!
Way to Go, Kathy! Now, who wants to get in on the competition, and challenge Kathy's winning streak?!

Complete the puzzle below and send back to Brenda at b.bader@adorayhomecare.org and we will announce the winners in next month's newsletter.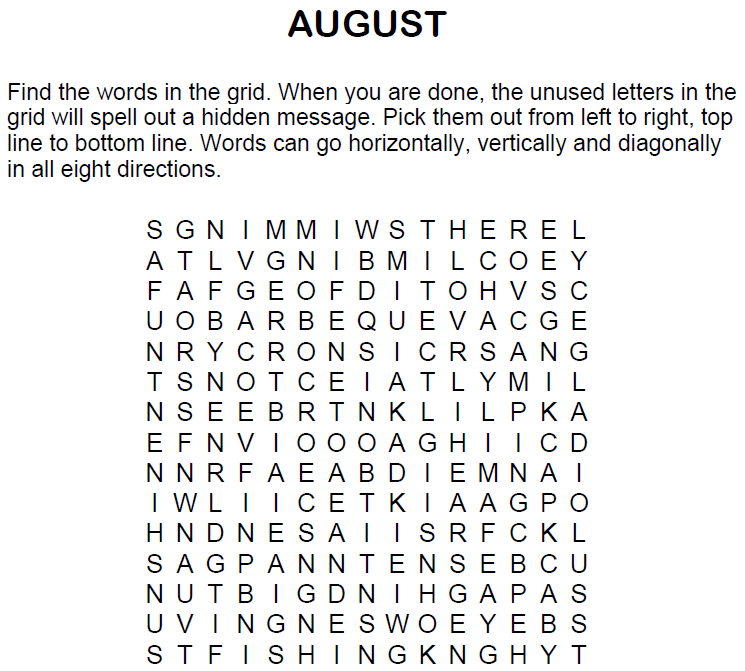 We are still accepting and in need of homemade masks
For anyone in need of materials please reach out to Joleen Larson at j.larson@adorayhomecare.org or by calling her directly at 612-987-6721 to coordinate a fabric pick-up.
Virtual Suggestion Box
Do you have ideas on how to make Adoray a better place to work and care for patients? Submit your ideas using the virtual suggestion box. This box will be monitored daily and will be forwarded to the appropriate manager for action.
Adoray Home Health & Hospice
990 Main Street, Suite 1 | Baldwin, Wisconsin 54002
715-629-1888 | a.bettinger@adorayhomecare.org