Claudia Dilts-Thurman – 2/1
Dona Mae – 2/5
Kelly Gullixson – 2/5
Rachel VanSomeren – 2/6
Dave Hense – 2/7
Barbara Trombley – 2/9
Mary Hense – 2/9
Nancy L Johnson – 2/9
Jan Ellefson - 2/11
Rosemary Donahoe - 2/12
Kimberly Gruber – 2/13
Virginia Larson – 2/13
Dawn Fossler – 2/15
Bob Enloe – 2/16
Karen Niccum -2/19
Emily Dress – 2/20
Cheryl Besler – 2/21
Harold Berglund - 2/21
Jacqueline Campbell – 2/23
Judy O'Neil – 2/23
Dawn Wachter – 2/24
Sherri Pinke – 2/26
Emily Bourget – 2/27
Yasu Fehlen – 2/27
Francis Hira – 2/28
We are beyond excited and honored to announce that Adoray Home Health & Hospice was awarded the 2019 Business of the Year by the Baldwin Woodville Chamber at their Annual Banquet last Monday Night.
As a community-based not-for-profit that started 25 years ago in Baldwin, this is truly an honor to be recognized by the community we call home!
Thank you to everyone who voted for us, but mostly we want to give a special THANKS to all our Employees and Volunteers who help make a difference in the lives of our community members every day! We look forward to 25 more years of caring for Western Wisconsin!

All Volunteers we invite you to join us at either (or both :)
of our Valentine's Partys this Sunday in River Falls and Osceola.
We Honor Veterans
Level 4 Celebration
Thursday, February 20
9:30-10:30am
At the Adoray Office
Please join us Thursday, February 20th at the Adoray Office to help celebrate reaching level 4 in the We Honor Veterans program.

All volunteers, but especially our Veteran Volunteers are encouraged to attend.
There will be coffee and breakfast treats and we will be taking a group photo to go with our press release in the paper.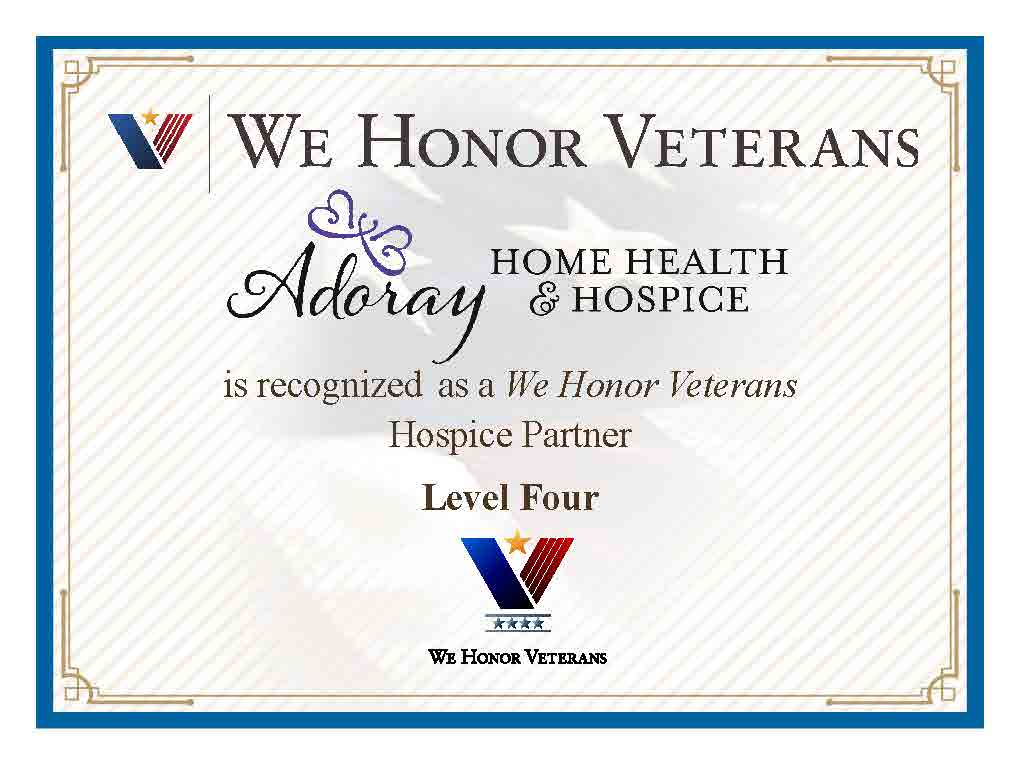 Congratulations on achieving We Honor Veterans Partner Level Four, the highest recognition of this exciting program!
Your latest report reflects your organization's continuing commitment and dedication to ensuring Veterans have access to quality end-of-life care, appreciated by all of us at NHPCO and the hospice community at large.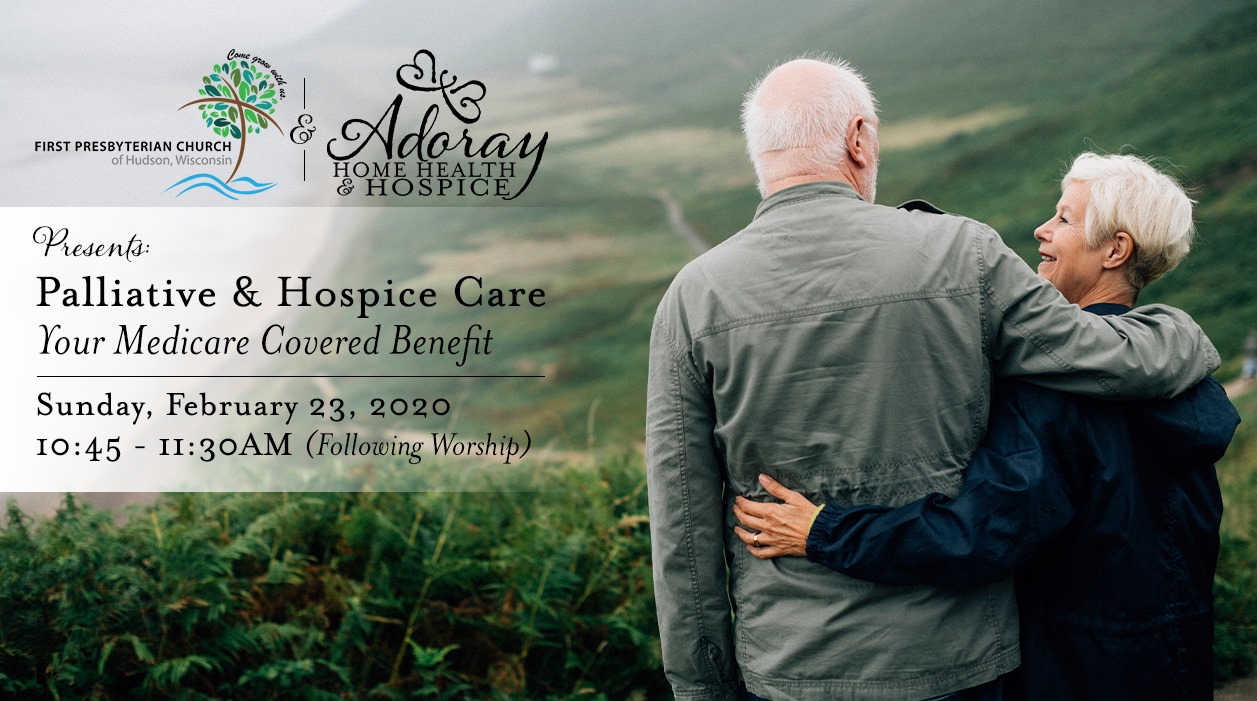 Adoray Home Health & Hospice Patient Services Advisor Erin Flug-Geissler will explain how hospice and palliative care are different, what both levels of care include, and how it benefits both the patient, family, and caregiver. You will gain knowledge of what hospice and palliative care can do wherever you call home, a better understanding of the criteria and frequent diagnoses, and what qualifies an individual to be in each program.
Palliative & Hospice Care
Sunday, February 23
10:45 - 11:30am
First Presbyterian Church Hudson
Please join us for this community outreach and education session Sunday, February 23rd from 10:45 - 11:30am at the First Presbyterian Church of Hudson.
Everyone is welcomed!
Adoray Gala Committee
Interested in helping with the Adoray 2020 Gala that will be held on Thursday, November 5, 2020.
Please join us at our second committee planning meeting on
Thursday, February 27, 1:00 -2:00pm
At the Adoray Office
Questions please contact Amber a.bettinger@adorayhomecare.org

Celebrating 25 Years of Caring for Western Wisconsin
This year, Adoray is celebrating 25 years of caring for patients in our communities. In honor of this milestone, we would like to raise $25,000 in 2020.
The funds will be used to implement a new Electronic Medical Record system that will allow Adoray staff to better care for patients. We are inviting our volunteers to make tax-exempt donation or pledge this year. By setting aside just a few dollars per month together, you can make a huge difference for our staff and for the care of our patients.
You are invited to give any donation that you wish, below you will find a few suggestions of pledges you can make each month that will make a BIG impact in 2020!
$5.00 per month= $60.00/year
$10.00 per month = $120.00/year
$25.00 per month = $300/year
$50.00 per month =$600.00/year
$75.00 per month = $900.00/year
$100 per month = $1200.00/year
Donations can be paid in full or paid monthly using our automatic payment processing system. For more information or to get a donation pledge form, please contact Amber Bettinger at a.bettinger@adorayhomecare.org, 715.629.1922 or stop by the office.
With Gratitude,
Kelsey Derrick, Executive Director
Thank you to everyone who has helped support our 25 Year Giving Fundrasier so far!

Greetings Adoray Hospice Volunteers - Welcome to February!
I am excited to announce that I am retiring. My last official day is Friday, January 31, 2020. I am resigning from my Hospice Volunteer Coordinator position but I am not resigning as an admirer of Adoray – I will continue to be around and available, helping out as a hospice volunteer just like you and in the office as my schedule allows. In the next few weeks I'll be training in a replacement, which means you will still be hearing from me on a limited basis. More information on my replacement will be coming later. I know you all will be just as gracious, willing and kind with the new Hospice Volunteer Coordinator as you have been for me. In the meantime, my backup social worker Nancy Anderson may be giving you phone calls or email messages requesting help for patients. I thank you for making my job over the last 3 ½ years easy and memorable. When I joined Adoray October 2016, I was excited to meet some of the best people in the world – volunteers who give of themselves to people who really need their help. I will truly miss regularly working with you, but don't be strangers – I'll be a team member along with you, helping patients and families. We can connect at any time.
I have been telling the office and clinical staff that this job has been the most rewarding one that I have ever done for a paid salary and I am grateful for that. But, retirement is calling. I plan to spend time with my husband Mike as we move on to other adventures, visiting our grandchildren and family members, traveling and volunteering together. Mike is an Adoray hospice volunteer himself, specializing in handyman projects, so I plan to help him. My own interests are playing piano music so I plan to share those talents also, but I don't think I can talk Mike into singing along with me. He says it will scare the patients.
Thank you for being such a good team of friends and thanks for all you have done for me! Thanks too for your support for Adoray and its mission. Keep up the important work that you do. Blessings to you!
Leann Lifto, (Former) Adoray Hospice Volunteer Coordinator
Please make note of some 2020 activities and meetings for Hospice Volunteers (Dates may be subject to change – please verify prior to the meeting date):
WHV Level 4 Celebration Thursday, February 20 at 9:30 – 10:30 All volunteers, but especially our Veteran Volunteers are encouraged to attend a special event at the Adoray office to celebrate our new designation of Level 4 in the We Honor Veterans program.
Mandatory Training, Tuesday, April 14 at 9:00 am – 11:00 am As part of your agreement to be a hospice volunteer, yearly mandatory training is required to remain a hospice volunteer. Training will be held at the new Adoray office in the large conference room. Let me know if you plan to attend. If you wish to complete your yearly training online, a request will be sent to you by email soon, using an online product called Relias. This training can be completed on your own computer on your own schedule, but must be completed before April 30. If you are a new volunteer in 2020, you are not required to complete mandatory training this year.
We Honor Veterans Annual Training: Thursday, April 2, 2020 and Thursday, September 17, 2020. All veterans are required to attend at least one of these sessions in 2020.
Ongoing Education – Stay tuned for dates and times!
Grief Support Volunteers
Here is our schedule for educational meetings and Remembrance Events for 2020.
I look forward to another year of providing exceptional grief support care with you.
May this new year hold much comfort and peace of heart for those we serve.
Wednesday, February 26 | 10:00 - 11:00 AM
Grief Support Education: Developing Support Systems
Wednesday, June 3 | 10:00 - 11:00 AM
Grief Support Education: Giving Grief Words and Integrating Grief
Wednesday, September 30 | 10:00 - 11:00 AM
Grief Support Education: Voices of Grief - film
All educational meetings will take place at the Adoray office unless otherwise noted. Please continue to watch the newsletter for updates and/or additions along the way.
Remembrance Events

Adoray Hospice Memorial Service
Sunday, April 26, 2020 | 4:00 - 5:00 PM
The Deerfield, New Richmond, WI

Adoray Silent Nights: Grieving Well Through the Holidays
Tuesday, December 1, 2020
Western Wisconsin Health
Thursday, December 3, 2020
St. Croix Regional Medical Center
Volunteer Spotlight
Meet
Cathy Shimon
Cathy Shimon is our newest hospice volunteer for Adoray. She states, "I have a passion for working with all ages of people, especially the elderly. I've volunteered at CCH in Hudson when my aunt was residing there and found it to be rewarding. There's nothing better than bringing joy to others, especially when they are in need."
A teacher and principal for the Hudson and then Clayton school districts for a combined 40 years, Cathy is also a member of the Rotary and had belonged to several professional organizations when she was working, plus taught religious formation at church for 25 years.
But now she says that, "Hospice care is something I've aspired to do upon retirement and working with people during tough times is a calling for me."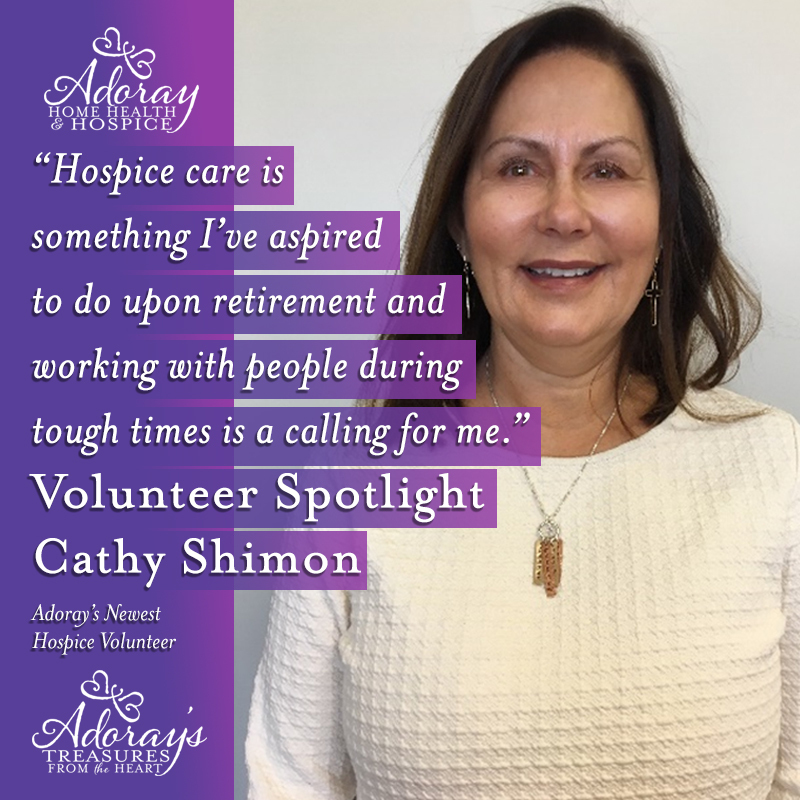 Cathy will serve hospice patients in the north and south service area but is also willing to help in the office with her many talents and positive energy. Cathy lives in Emerald with her husband Ron and in her spare time loves gardening, reading, traveling and spending time with their 5 grandchildren. Welcome to the Adoray team Cathy, and thanks for volunteering with us!
Community Member Spotlight
Meet
Joni Toland
(Owner of Pearson Florist in River Falls)
We would like to give a special THANKS to Joni Toland, owner of Pearson Florist in River Falls! There are many ways folks can help support Adoray and Treasures' mission.

Joni recently started helping us create unique and beautiful memorial floral arrangements. These memorial floral arraignments are delivered to the facility in memory of a hospice patient that Adoray had the privilege to serve. It's a small way for us to help those they lived with and the staff that cared for them remember the precious life.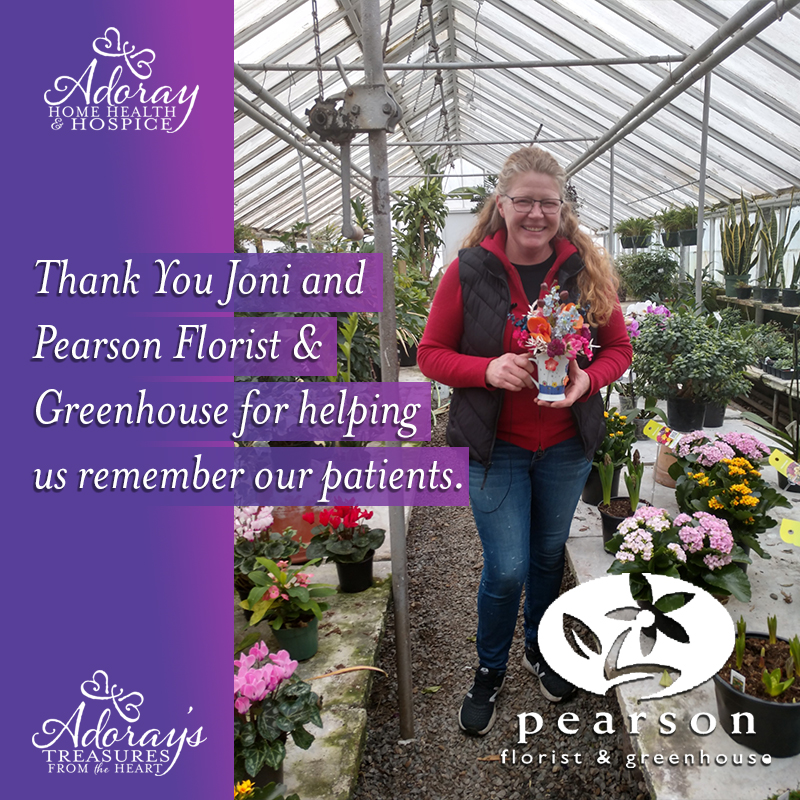 Thank you so much, Joni for your support! We are so glad to be able to work together for Adoray's patients, their families, friends and for the entire community.

If you are ever in River Falls swing into Pearson Florist and say Thanks to Joni!
New at all Treasures Stores
Double the Punches Wednesdays!
Get double the punches on your loyalty care for every $20 or more you spend.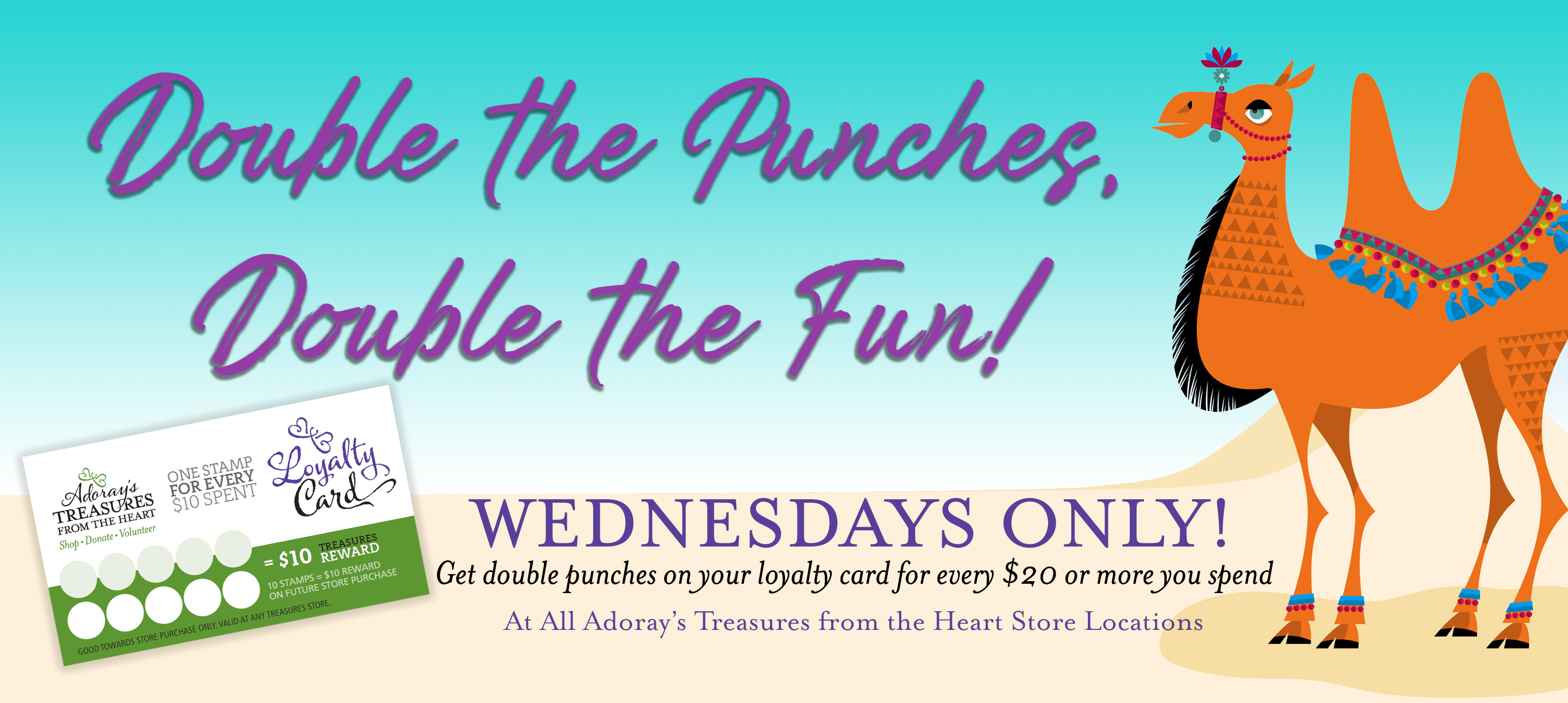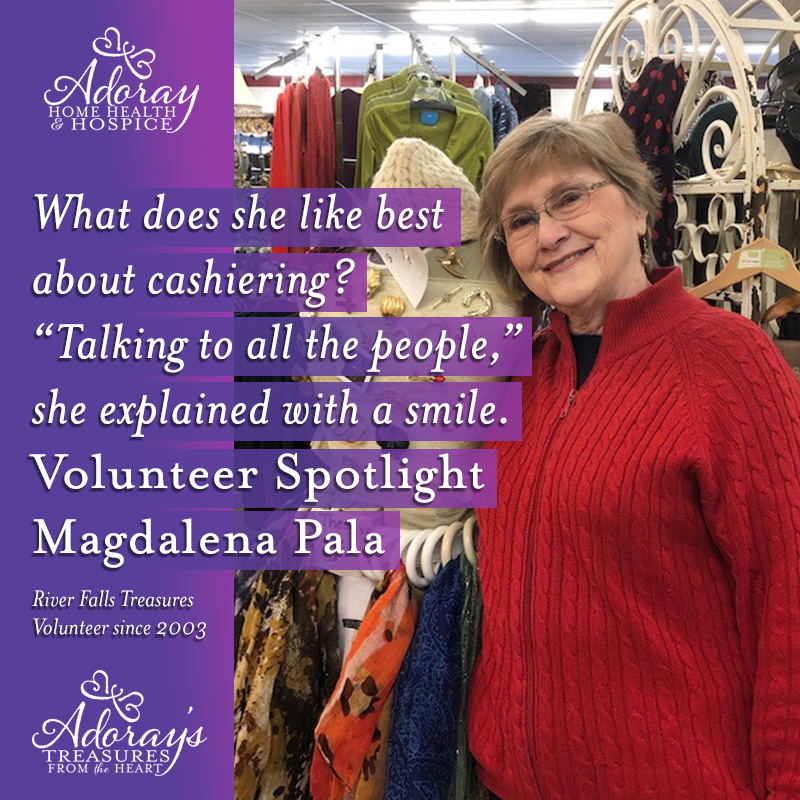 Volunteer Spotlight
Meet
Magdalena Pala
Originally from Warsaw, Poland, where she obtained her PHD in Organometallic Chemistry, Magdalena moved to Texas getting a job as a teacher/lecturer at Texas A&M. Moving from a huge metropolitan city with a population of 1 million like Warsaw to a smaller city of approx.100 ,000 and in the United States was interesting and challenging. Texas A&M is a large University and after 8 years in Texas, Magdalena was again ready for a change. She applied to the University of Wisconsin River Falls and joined the Chemistry department, where she taught for over 20 years.
While River Falls is much smaller than College Station Texas, the proximity to Minneapolis/St. Paul makes it an ideal location. Magdalena enjoys the wide range of people that call River Falls home. "There is a good blend of young and old with amenities for all age groups", she explained. "Having the university in town and being close to the Twin Cities makes life here ideal."
Initially, she heard about Treasures from a news story in the local paper. She had a bit of free time and thought it would be a good diversion. She didn't want to be out front, but hidden in the back - tagging and steaming was her jam.
She was still teaching Chemistry full-time at UW-RF and liked the flexibility of coming in at her leisure as she was not able to be tied to any set schedule.
When asked when she joined the Treasures from the Heart Volunteer team, Magdalena explained she was not quite sure, but it was pre-upstairs receiving and prepping area time. Estimating she joined the team in the Fall of 2003, she remembers vividly bringing her nephew to visit the store in the summer of July 2004 and feeling like she was a veteran, showing him all the work done behind the scenes and him wanting desperately to cashier, which at that time was something she didn't think she would ever want to do.
Fast forward to today where you will find Magdalena's smiling face at the cash register greeting shoppers almost every Saturday morning. What does she like best about cashiering? "Talking to all the people," she explained with a smile. Once wanting to stay behind the scenes, she now loves the interaction with all the shoppers. She even carries a map in her purse to explain where she is from as curious shoppers inquire about her accent.
One of Magdalena's unique talents is she a wiz with numbers. Faster than our cash registers, she can figure out the total and exact change without using the register. While she does not use that skill often it does come in handy every now and then.
Magdalena gets home to Warsaw, Poland one or two times per year to visit her mother, who just turned 92, her sister and friends. She enjoys her visits but has come to call River Falls home.
We are so happy the Magdalena found us and thank her for all her dedication. And we love that she came up out of the basement and joined the frontline. Her warm smile makes everyone feel welcome. Thank you, Magdalena!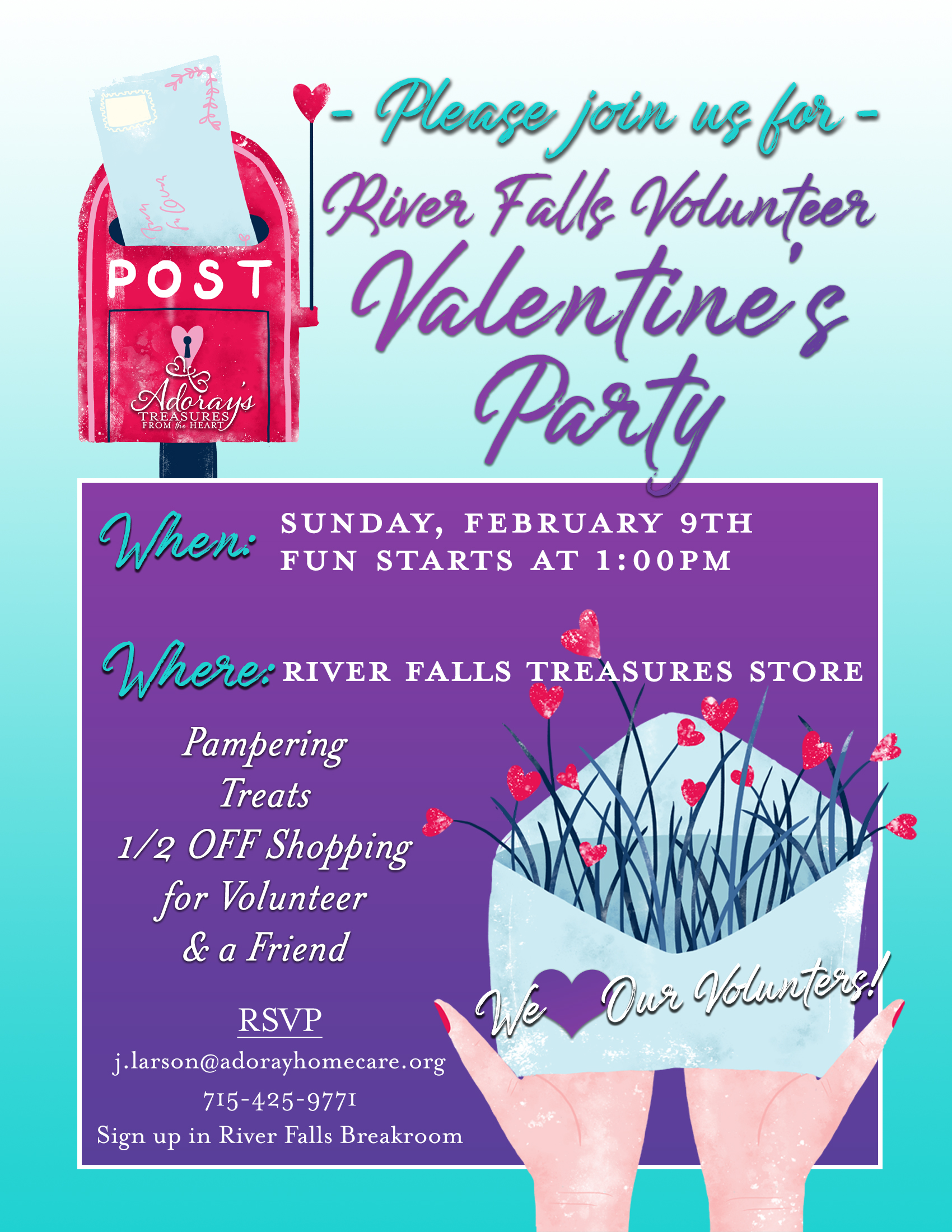 Starting NOW, Adoray's Treasures from the Heart River Falls
will no longer be using Plastic Bags!

MYTH: But isn't Treasures helping by recycling plastic bags?"
FACT: Actually by using plastic bags we are only keeping the demand for them to be made because people rationalize they can recycle them.

FUN FACTS TO HELP BUST THE MYTH
TIPS & REASONS TO STOP USING PLASTIC
Plastic is made of petroleum, therefore very harmful to the environment. It takes HUNDREDS of years to completely break down in landfills.

FACT Americans use, on average, anywhere from 300 to 700 plastic bags each year, per person. There is currently more than 7,250,000 tons of plastic polluting the world's oceans at this very moment. Eeeeek.

More than 46,000 pieces of plastic contaminate each square mile of our oceans. Okay, now think about that and then all the cute things you love in the ocean. Dolphins, starfish, seahorses or if it helps the things you like to eat in the oceans as well!
So now that you have a few facts that make you cringe. You say, but how am I suppose to remember to always bring a bag with me? Well here are a few helping points:
Buy a couple of different size packable bags that you can carry in your purse or pocket.

Make a habit of keeping some in your car, next to the grocery & shopping lists, by the coat rack, or at work.
Thank you for helping us make a difference!
It's a little different that adds up BIG!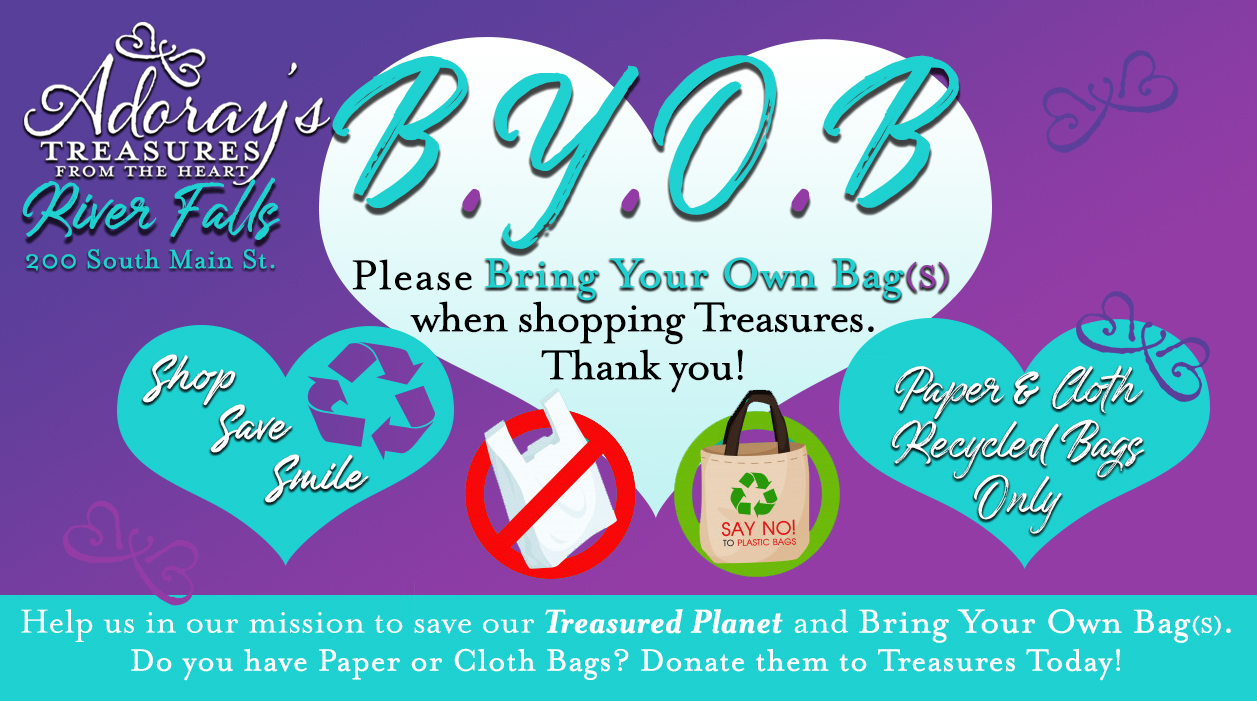 Mark your calendars for our big
"Anniversary Savin-o-the Green Sale-abration"
March 15-21, 2020
There will be cake, golden tickets, prizes and tons of fun!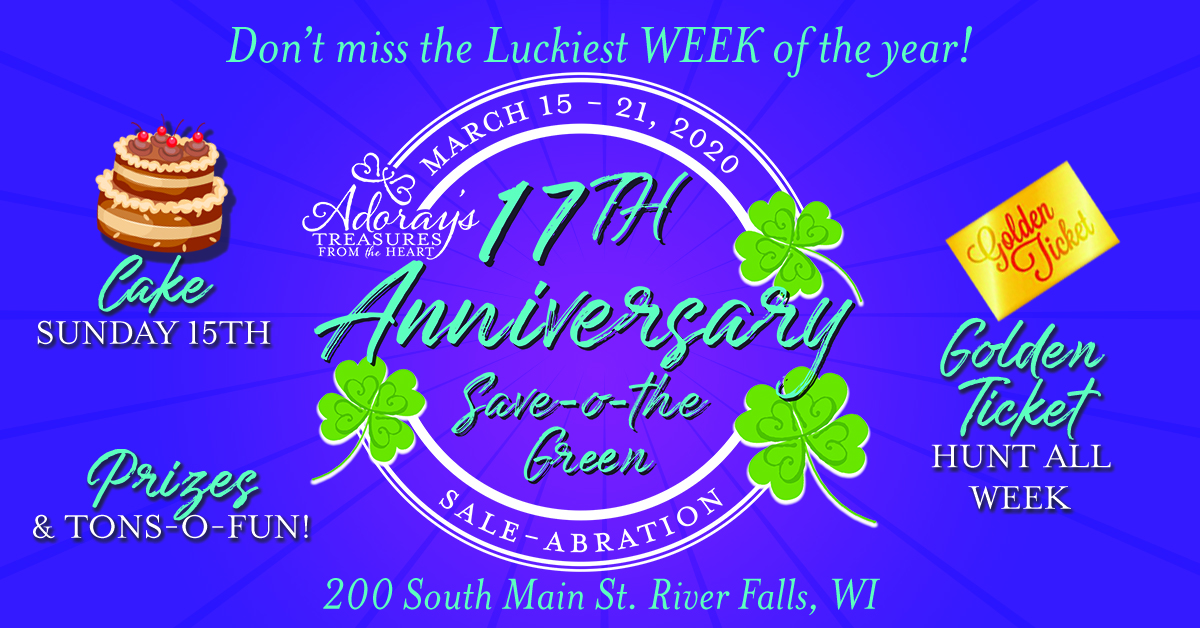 Volunteer Spotlight
Meet
Jason Swanson
(Sonya's Better Half)
2020 is off to a productive start at Osceola Treasures From the Heart! This month, our handy volunteer Jason Swanson (Sonya's better half) spent a few hours wiring our store with speaker wire, so we now have stereo sound in 4 areas of the store! Up to this point, we had one blasting speaker in the craft corner which was too loud there, yet not loud enough to reach other parts of the store. And, while he had the ladder out, we had him change/install some fluorescent bulbs and brighten up the store too. New sound and a brighter space sure makes for an improved shopping atmosphere!
When Jason is not volunteering at Treasures, he is employed full time with a food broker Fresh Strategies out of Coon Rapids, MN. Jason enjoys watching his daughters play volleyball, and even does a little volleyball refereeing himself. Jason and Sonya have 3 daughters - Rachel is a junior at UW-EC studying Nursing, Laura will graduate from Osceola High School this spring and Mari is a sophomore at Osceola High School.
Please note DATE CHANGE for the Osceola Volunteer Valentine's Party.
You and a Friend are invited! Please come and enjoy a light snack, some pampering and 1/2 price shopping from 2-4pm this Sunday, February 9th.
Please RSVP at the store by calling 715-294-4074 or stopping in.
We LOVE our volunteers and hope to see you there! Sonya, Joyce and Debbie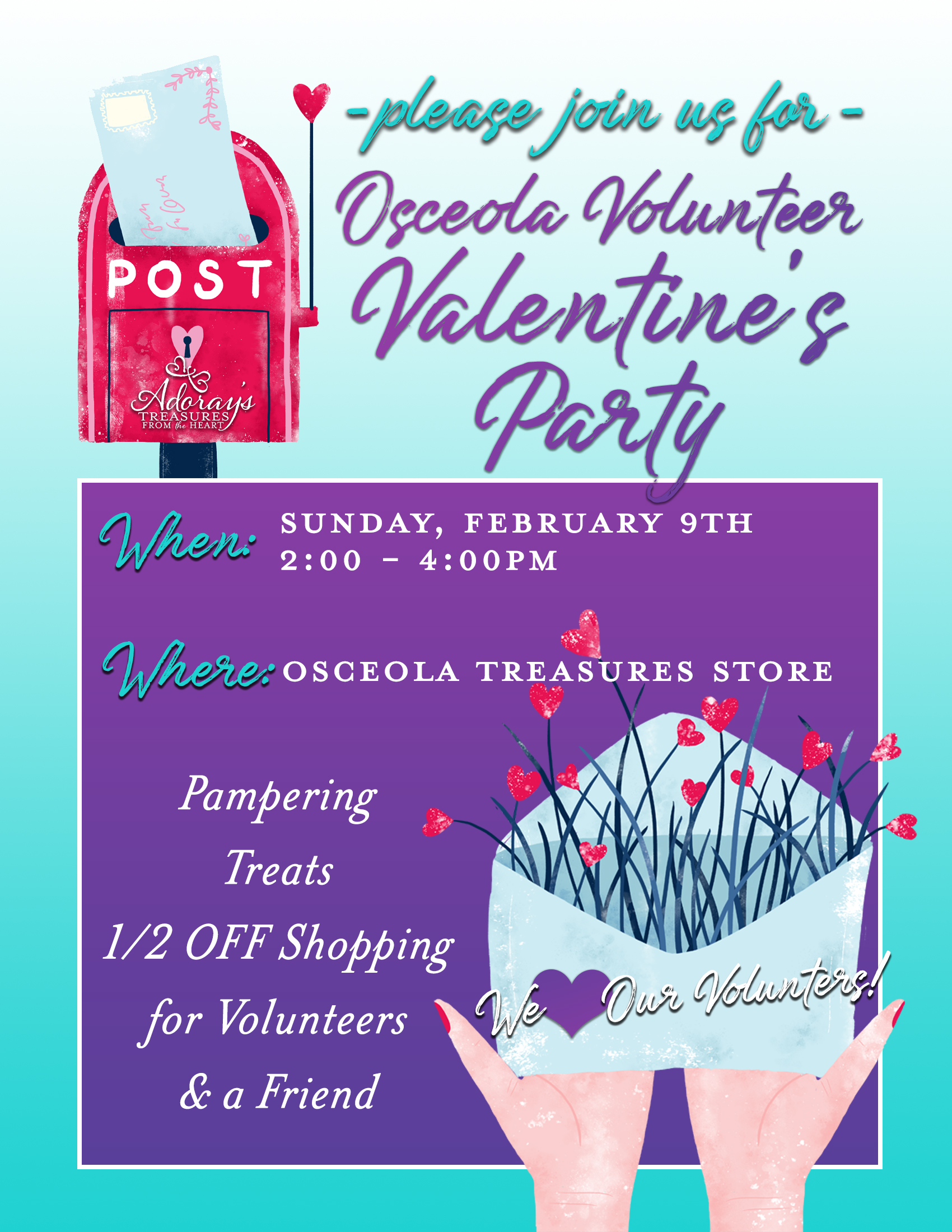 Osceola Customer Story:
A favorite customer of Osceola Treasures is Kathy Cowan. Kathy always loves to stop by and see what's new in our store each week. Last week, our volunteers built a fun "safari-themed" display and Kathy was all over it. She purchased several items to decorate her apartment with. Kathy loves our store in downtown Osceola and tells her friends in her apartment building all about us. She has brought many customers our way and we love to see her smiling face come through our door!
Adoray Home Health and Hospice is currently recruiting for a Volunteer Coordinator to join our team. The ideal candidate has experience with volunteers and works 24-32 hours per week. Learn more at https://www.adoray.org/careers
Virtual Suggestion Box
Do you have ideas on how to make Adoray a better place to work and care for patients? Submit your ideas using the virtual suggestion box. This box will be monitored daily and will be forwarded to the appropriate manager for action.
Adoray Home Health & Hospice
990 Main Street, Suite 1 | Baldwin, Wisconsin 54002
7156291888 | a.bettinger@adorayhomecare.org