Hello Friends!

It's July, already! We are entering the second half of 2020. Never before have we been at this place in history. As you well know, this year has already been filled with it's share of historical events. I encourage you to take time to pause, and reflect on what has mattered the most to you these past 6 months. Think about how we can turn our thinking toward the positive during these ever-changing times.

I am taking time to be at my camper with my dog (see pictures below) and my cousins for the 4th of July weekend. My reflections are on what independence has meant to me. Of course, my thoughts turn to our U.S. Veterans who have fought so bravely. I also do think about how America is still the best place to live. That almost seems impossible to say with current events as they are, but I truly believe with hard work and respect of each other, we can fight for change, and tomorrow will be a better day. The future will be bright as we lift each other in the everyday moments of life.
Freedom and independence means something different for each of us. With America being such a marvelous melting pot of life, we can be sure to always be challenged to care about one another and the journey each of us is on. At Adoray, we embrace this attitude everyday by helping patients who have put their trust in us to care about them and their families. There is so much kindness and compassion in this organization and I'm so pleased that we are on this mission together.
Please consider how you feel about returning to volunteer service. As you know, our ability to do this safely is of utmost priority. At this time, we are not accepting volunteers back in service at our main office in Baldwin. Most of the facilities that our patients are in, are not allowing face-to-face visitors, making that situation to be a no-contact volunteer opportunity, where available. If you would like to send a card to a hospice patient or family, please send it to me at the Baldwin office, and I will make sure to get it to them.

I sent an email recently to our hospice volunteers highlighting what our "return to volunteer service" parameters look like right now.

Here is a recap:
We are able to accept Volunteers for Service at this time for our Hospice Patients who are residing in their homes. Volunteering with hospice patients is currently dependent on need, desire, and comfort level of the patient and volunteer. Below are some guidelines that we are following due to the ongoing coronavirus pandemic.
Volunteers will need to follow the same procedures as the staff which are:
Take your temperature before leaving home each morning

Wear a mask and gloves at all times while in a patient's home

Call the patient or caregiver before coming to ensure they are not experiencing any Covid-19 symptoms

Volunteers cannot go to a facility until the restrictions are lifted for visitors

Treasures Stores volunteers have been allowed to return. This is by choice only and they are required to follow the same rules as stated above.
I had the pleasure recently of touring most of the Treasures stores, and meeting some of the wonderful staff and volunteers. See the pictures below of the Treasures Manager, Joleen, and I trying to take a social distance photo together. We need to have some fun, right? We are blessed with such talent in all of our volunteers and staff. It's the Adoray "Teamwork that (of course) makes the Dream work!"

Please feel free to reach out to me anytime. Let me know how you are doing, how I can help you, and any ideas that you have for assisting our patients in their time of need.
Blessings and Peace for your heart in this second half of 2020.

Your friend,
Brenda
BIG Thank You to
Comfort Quilters &
St. Bridget's Martha Quilt Group
for another delivery of beautiful quilts for our hospice patients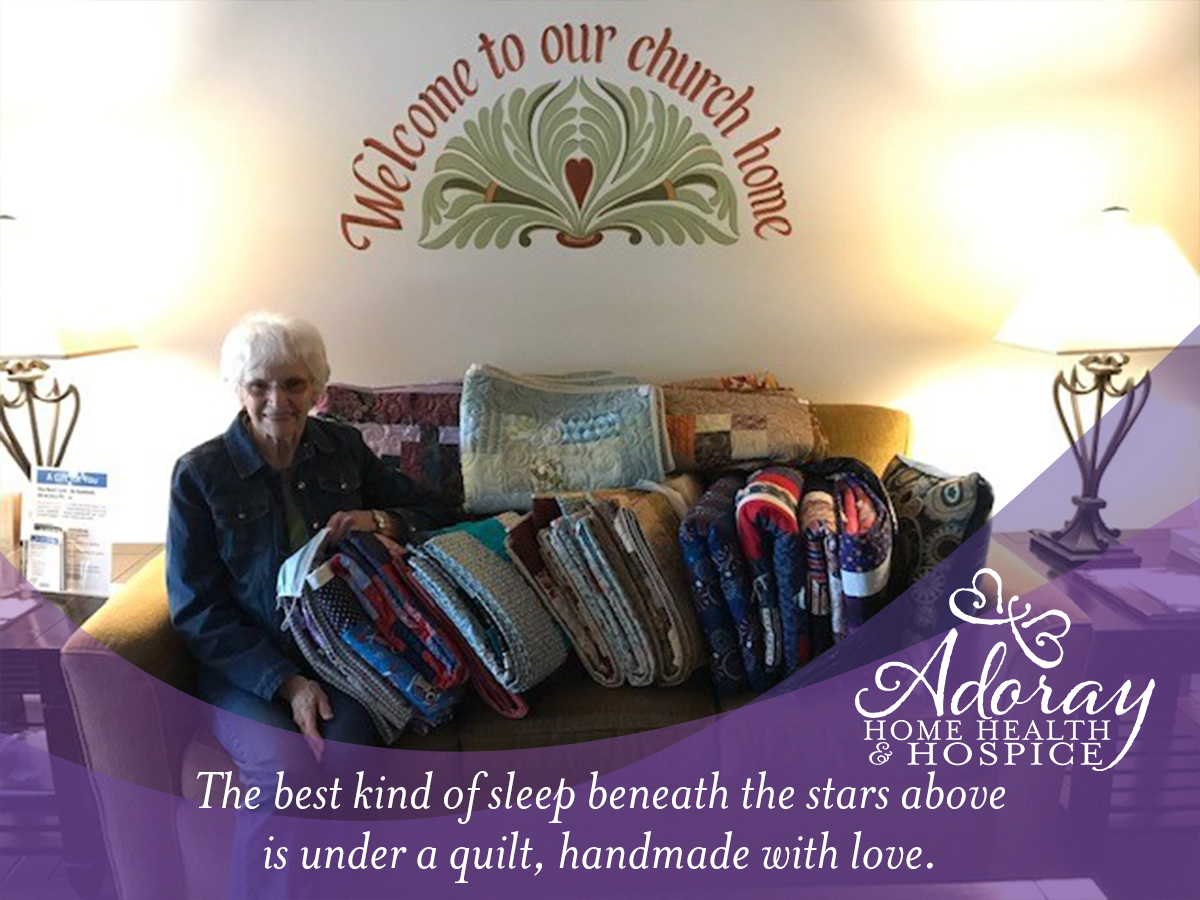 Carol Feyereisen, St. Bridget's Martha Quilt Group, River Falls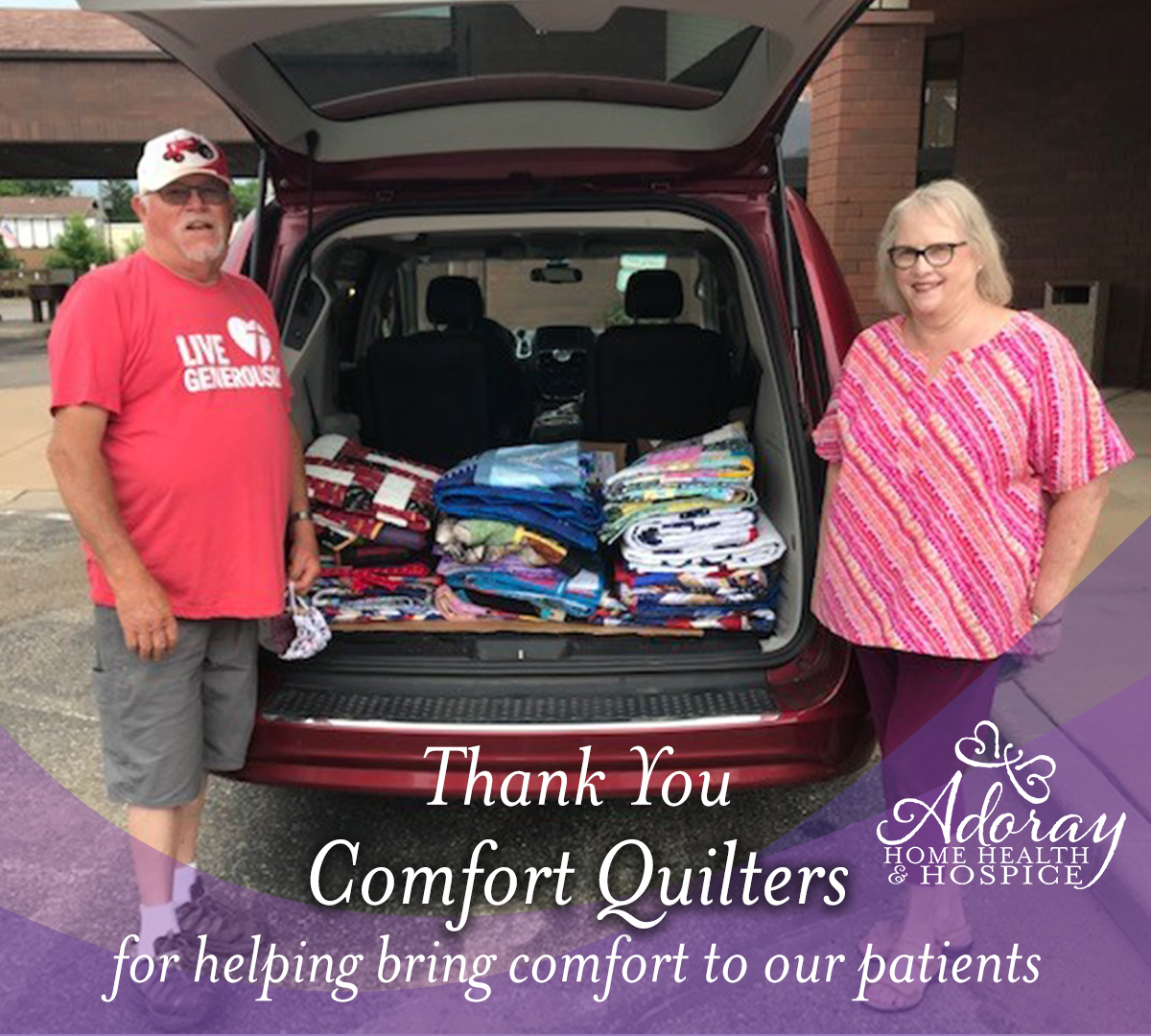 Kathy and Wayne Miller, Comfort Quilters Group, Roberts
Dear Volunteers,
We are still in search for a forever home for Marge.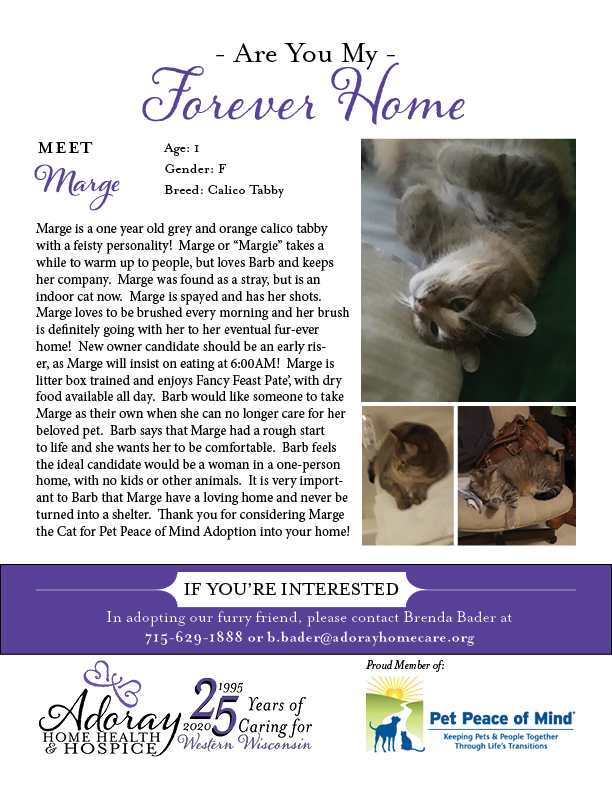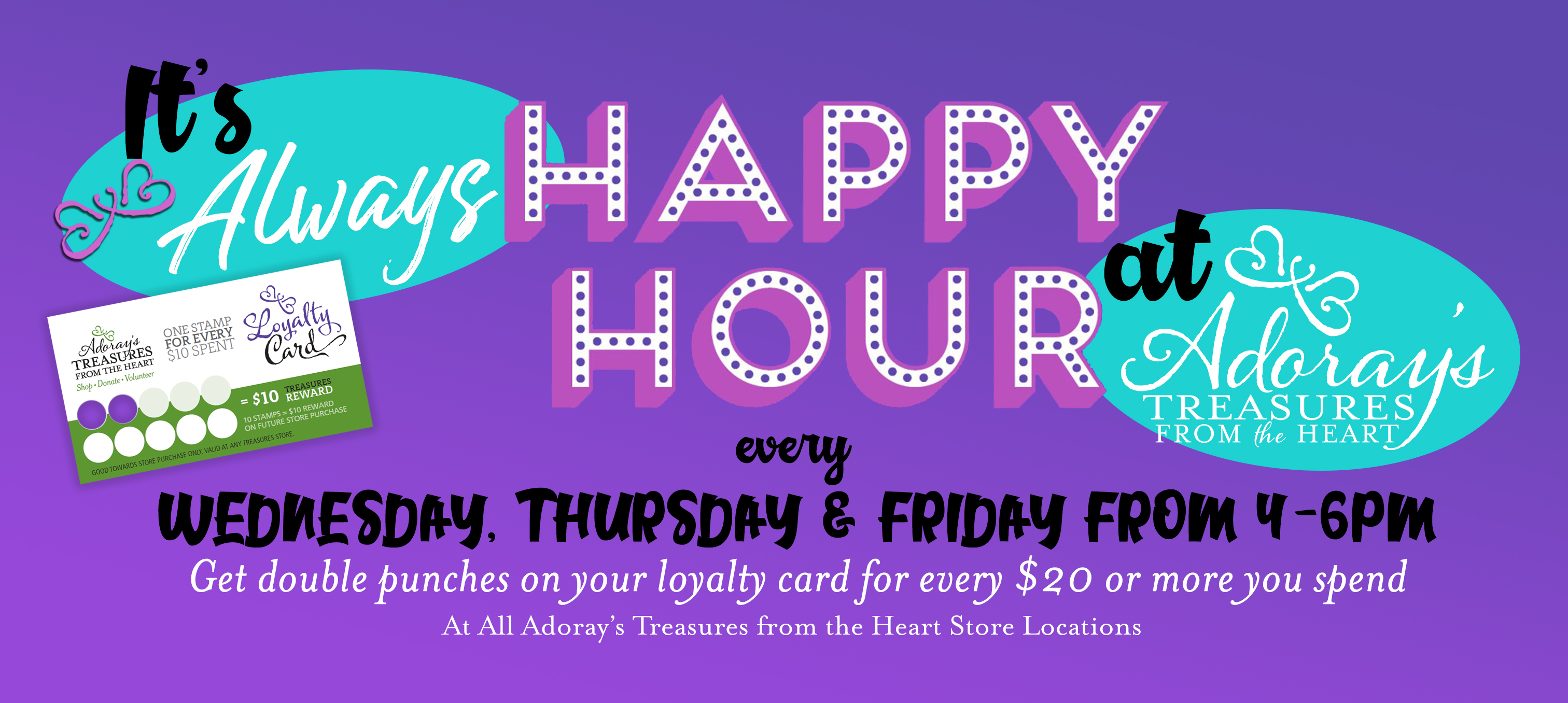 Hello!

We are so grateful to those volunteers that have returned to help us in Treasures' stores. We are humbled by your dedication and feel so very lucky to have you on our team. To those of you who are not comfortable coming back, we understand completely. Your health and safety are our first concern, so take your time and when you are ready just give us a call. We cannot wait to welcome you back!
This year is just flying by. July is upon us and that brings summer heat, family fun and vacations! We hope that even though we must be cautious, that you are able to visit with loved ones and share in some summertime fun. At the stores it means that soon there will be summer sales, and back to school isn't far behind.

If you have not liked us on Facebook, we encourage you to do so. It is the best way to keep in touch with the stores, Adoray and all sorts of community events. The stores are posting videos and pictures frequently and you can even shop from the safety of your own home.

Stay Well!
Joleen
Volunteer Spotlight
Marlice Shirley

Marlice has volunteered at the River Falls store since 2004. You can find her at the tagging table on Tuesday and Thursday mornings. She was introduced to us by her daughter, JoAnne, who has volunteered in River Falls since we opened. When Marlice retired, Jo suggested she come in and try it, and she has been volunteering ever since.
When Marlice was asked why she volunteers she explained she respects our mission. Her family has experienced the gift of hospice firsthand as her husband, Bill, was an Adoray Hospice patient. Marlice also likes people and enjoys being in an environment where the people are all working together for a common cause, volunteering because they want to share their time and talents.
Marlice has devoted a lot of time to Treasures, but it is not the only place she hangs out. Marlice and her husband Bill have been on many missionary trips with their Pastor from church visiting countries and people all over the world. From visiting the Holy Land in 2012 (Bill's last trip) to helping build homes in Mexico. And Marlice is still traveling with her daughters, visiting places Bill visited on missionary trips. Last October she traveled to Peru and the Galapagos Islands with daughter, JoAnne. And she is looking forward to soon going on a riverboat trip through Scotland with her daughter, Jeanne, and the Panama Canal with daughter, Lynn.

The team at Treasures appreciates Marlice's dedication. Her easy-going demeanor and willingness to help us as needed is just a joy. Thank you for 16 years of service Marlice! We can't wait to hear about your next adventure!

Volunteer Spotlight
Grace Bjorklund
Grace and the Osceola team celebrated her 85th Birthday on July 1! We celebrated with burger night at the local Cascade Bar & Grill. Lots of fun was had by all!
Grace has been with our store for nearly 4 years now and volunteers 2 or 3 days each week as a cashier. We love Grace's baked goods and the stories she shares about her wonderful family.
She's a dear and we feel privileged to have her at our store!
Adoray Crossword Challenge
BIG Congratulations to our Winner
River Falls Treasures Volunteer, Kathy Svoboda, for answering all of the questions correctly on the May Crossword puzzle. She will receive a little surprise in the mail from me! Way to Go, Kathy!

Complete the puzzle below and send back to Brenda at b.bader@adorayhomecare.org and we will announce the winners in next month's newsletter.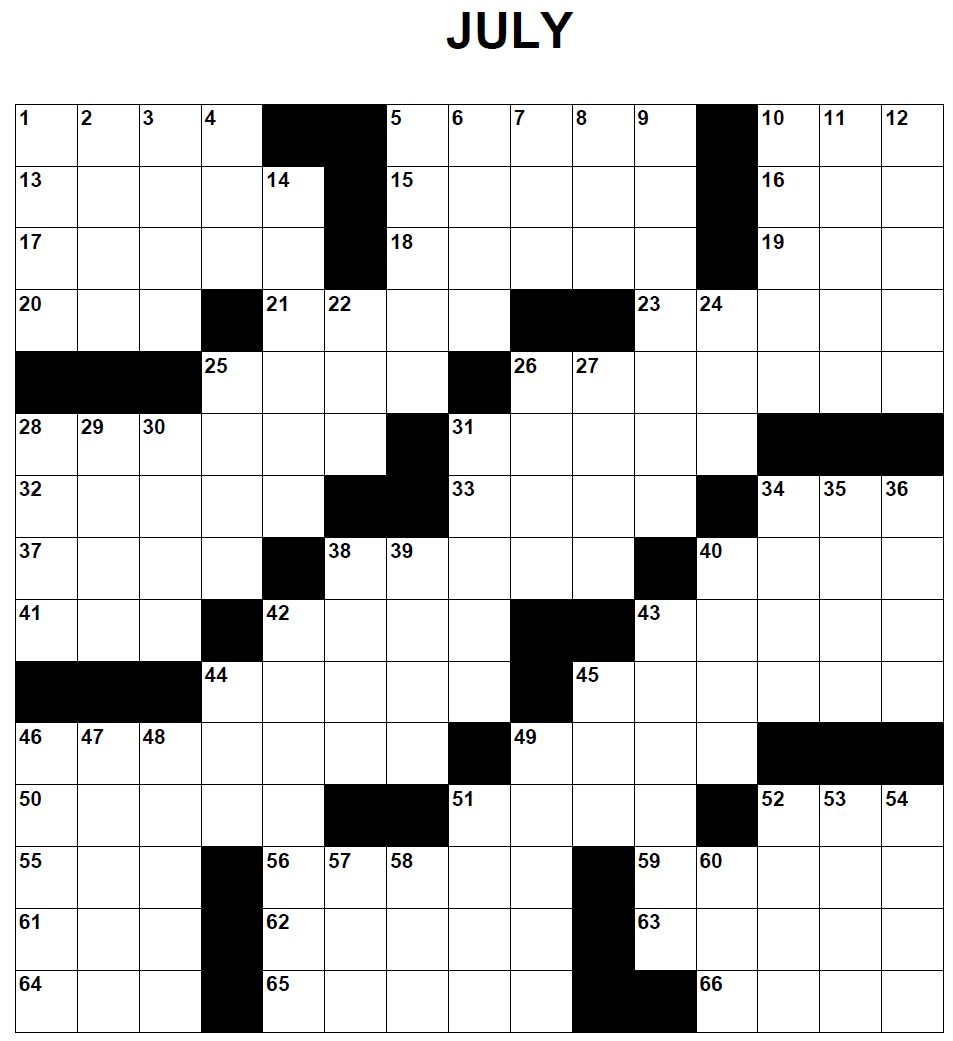 We are still accepting and in need of homemade masks
For anyone in need of materials please reach out to Joleen Larson at j.larson@adorayhomecare.org or by calling her directly at 612-987-6721 to coordinate a fabric pick-up.
Virtual Suggestion Box
Do you have ideas on how to make Adoray a better place to work and care for patients? Submit your ideas using the virtual suggestion box. This box will be monitored daily and will be forwarded to the appropriate manager for action.
Adoray Home Health & Hospice
990 Main Street, Suite 1 | Baldwin, Wisconsin 54002
7156291888 | a.bettinger@adorayhomecare.org