Can You Believe it?!
Holy cow, I can't believe it's already March 5th! Where is this year going?
We have a lot of exciting things happening this month from Daylight Savings, the First Day of Spring and the Luckiest Week of the year happening at Treasures River Falls for their 17th Anniversary Sale-abration!

Judith Hansen Jorgenson - 3/1
Mary Onkka - 3/2
Rosemary Dusek - 3/2
Sharon Germain - 3/4
Donna Mae Stohlmann - 3/4
Barry Hophan - 3/5
Sandi Rolling - 3/5
Margaret Blum 3/9
Cheryl Halverson - 3/9
Steve Millermon - 3/9
Dorene Jacobson - 3/11
Christina Miller - 3/11
Shirley Alwin - 3/15
Jean Kelley - 3/19
Jim Wickboldt - 3/19
Diane Kosa - 3/23
James Demulling - 3/25
Barbara O'Malley - 3/28
Sandy Decoux - 3/29
Becky Dopkins - 3/30
Alise Gustafson - 3/30
Faith Gustafson - 3/30
Mike Tervo - 3/30
Cyndy Simpson - 3/31

Help us recognize those who went above and beyond in 2019.
Categories Include:
*Hospice Employee of the Year*
*Home Health Employee of the Year*
*Hospice Volunteer of the Year*
*Treasures Volunteer of the Year*
Winners will be announced at the Adoray 25th Anniversary Party on Tuesday, April 28, 2020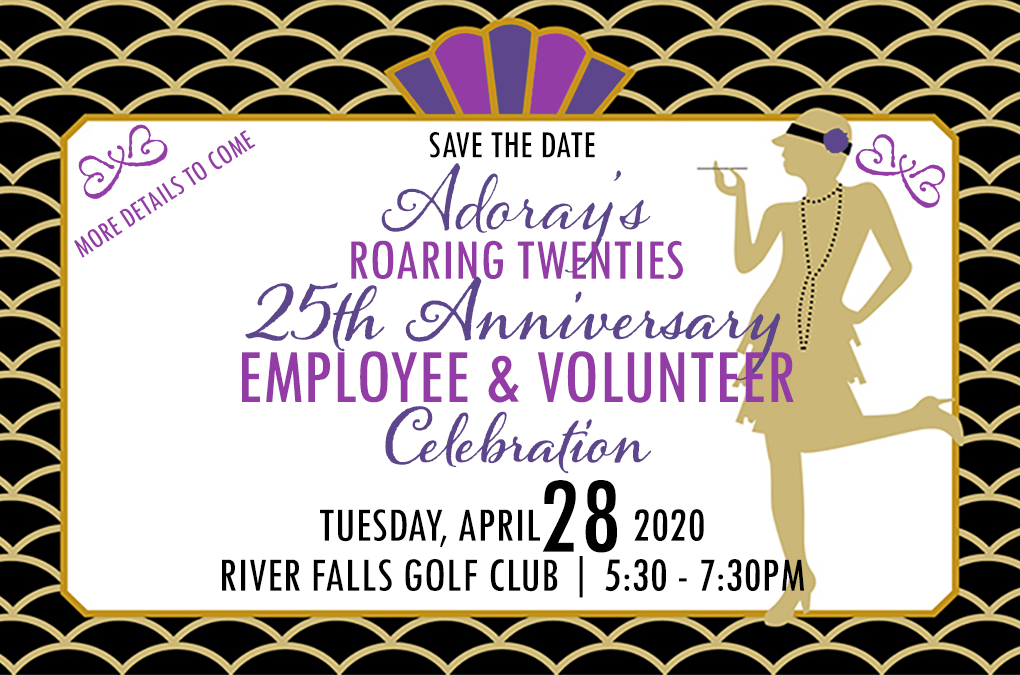 Thank you to everyone who was able to join us to celebrate reaching Level 4 in We Honor Veterans
Here are some fun facts about Adoray's We Honor Vets Program
Since joining the We Honor Vets program in 2013, Adoray has been able to Thank 128 local Veterans on Hospice with a special We Honor Vets recognition ceremony.
Each year around 25% of Adoray's Hospice patients are Veterans, with a total of 176 Veteran patients.
We have had Veterans from every branch of the US Military (including 2 British Royal Air Force and 1 Royal Canadian Military) with many having serviced in WWII, Korea, Cold War and Vietnam.
Adoray has given out 119 Veterans Day Baskets since 2016.
Currently, we have 8 We Honor Veteran Trained Volunteers. Vicki Bolton, Jim Wickboldt and Jerry Pederstuen are pictured below holding the Level 4 Certificate.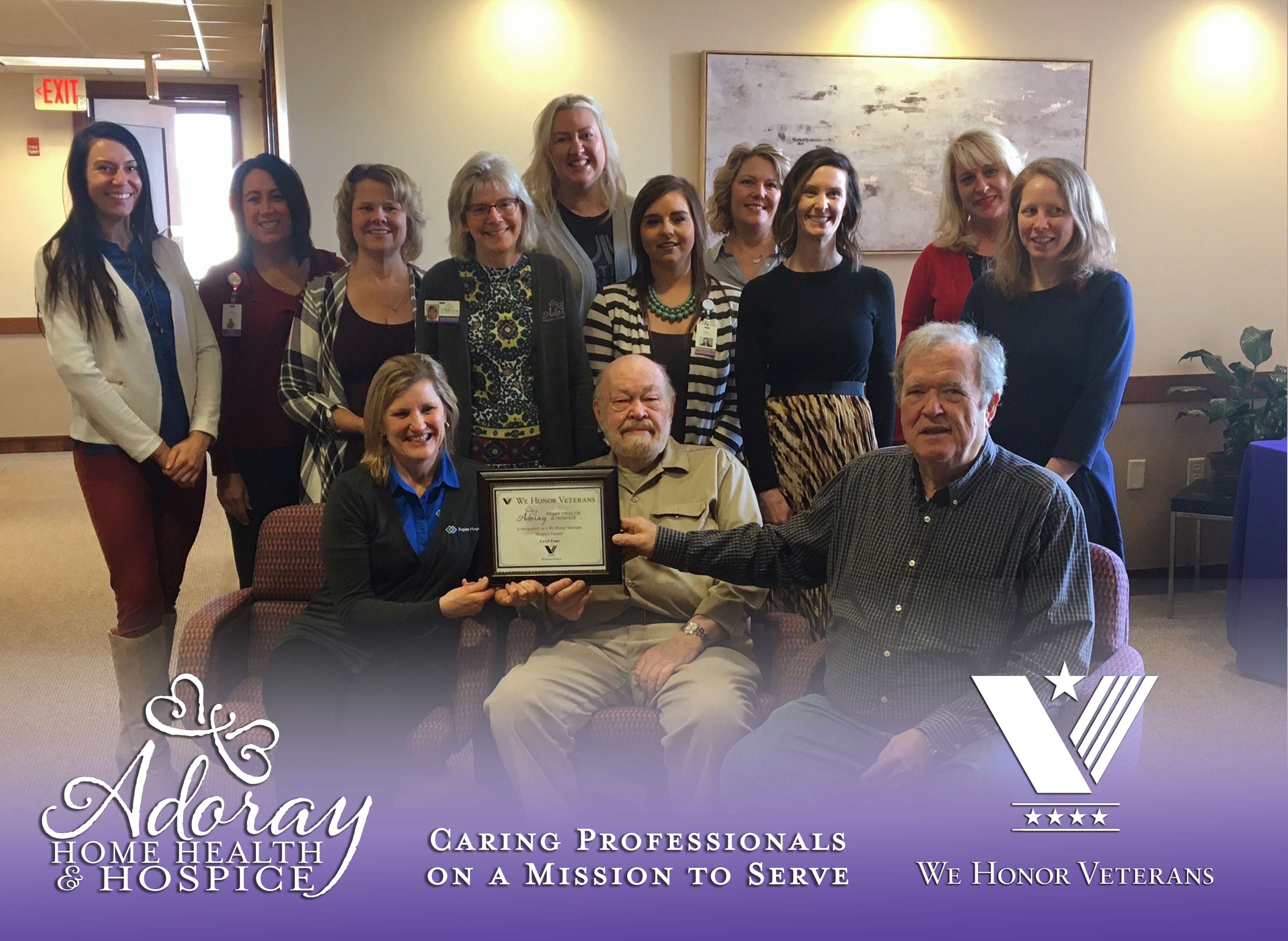 Mark your calendars for our big
"Anniversary Savin-o-the Green Sale-abration"
March 15-21, 2020
There will be cake & Potato Soup Crawl on Sunday, March 15th.
Join us for Golden Ticket Hunts, prizes and tons of fun ALL WEEK LONG!
Adoray Gala Committee
Interested in helping with the Adoray 2020 Gala that will be held on Thursday, November 5, 2020.
Please join us at our second committee planning meeting on
Thursday, March 26,
2:00 -3:00pm
At the Adoray Office
Questions please contact Amber a.bettinger@adorayhomecare.org
NEW AT ALL TREASURES STORES STARTING THURSDAY, APRIL 2, 2020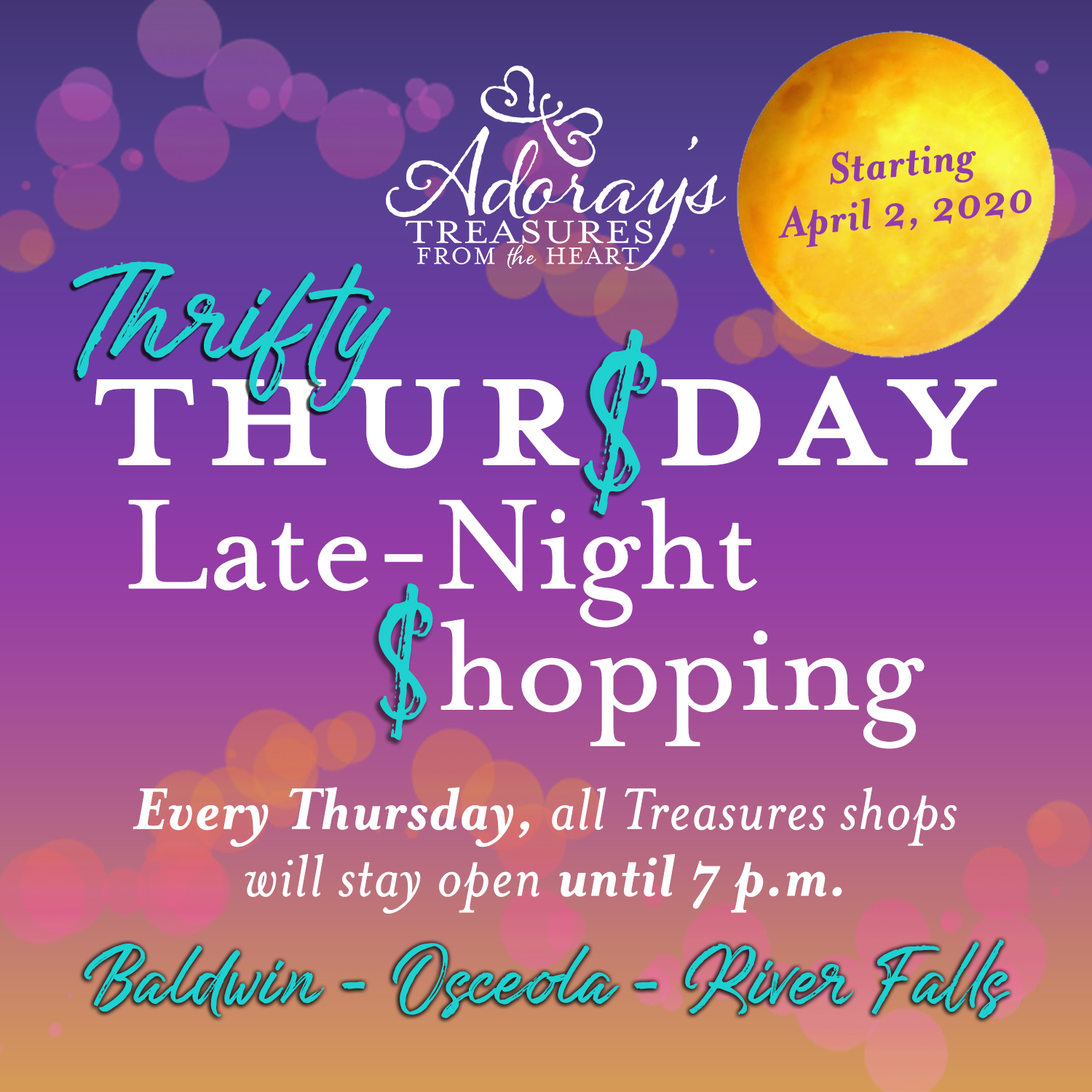 Welcome Adoray's Treasures from the Heart Baldwin 1 & 2
to the BYOB Club!
As of March 3rd, both Baldwin Treasures stores will no longer be using plastic bags. Please help us spread the word about bringing your own bag and donating paper and cloth bags to the stores.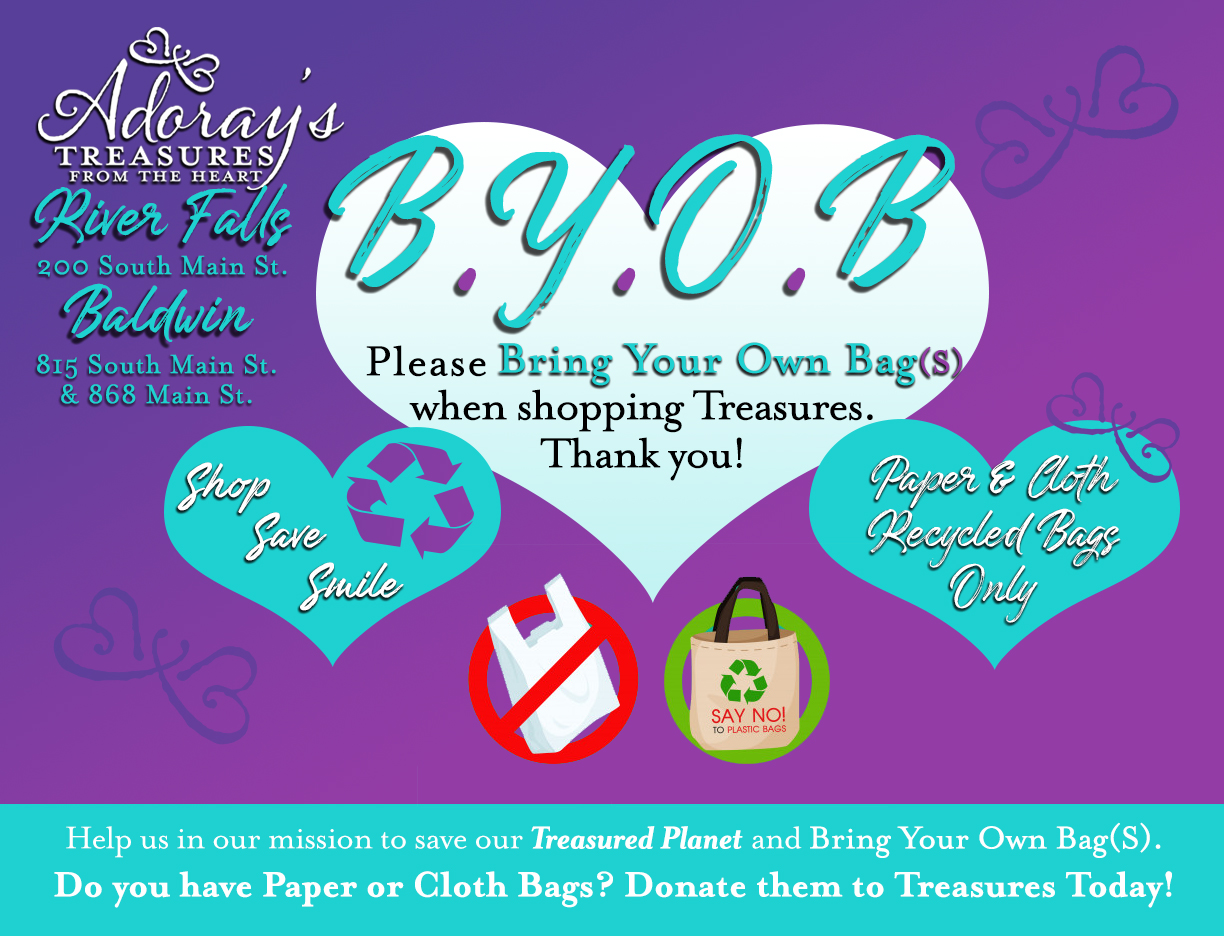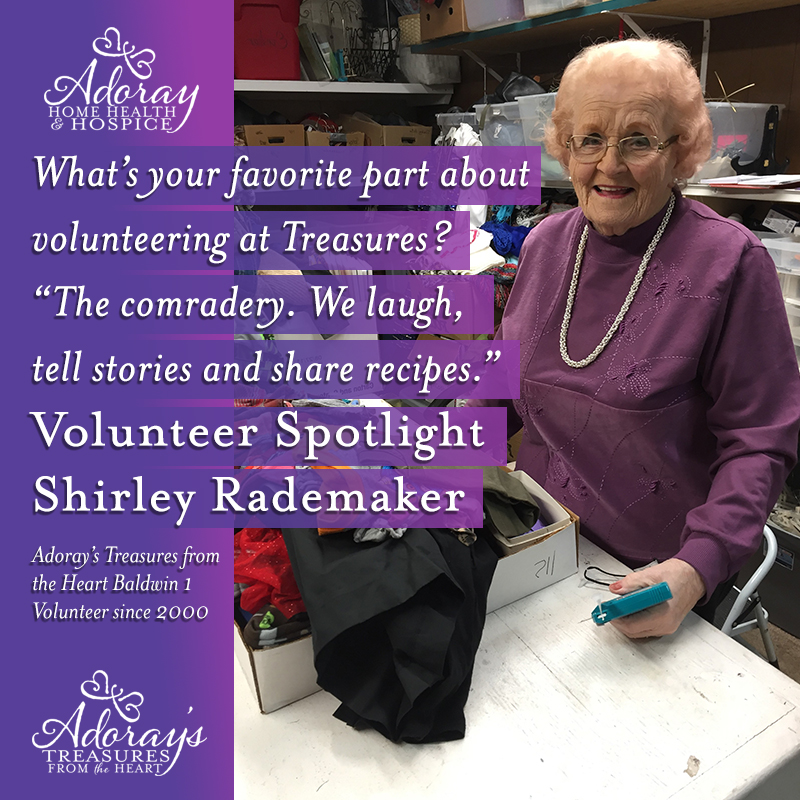 Volunteer Spotlight
Meet
Shirley Rademaker
(Baldwin 1)
"The Thursday Ladies" have been a dedicated group since Treasures first opened in 1999. Shirley Rademaker joined this group one year later when her sister-in-law encouraged her to be a part of the team.
Buying their home in 1966, Shirley and her husband Bud have always lived in Woodville. They had one son, Bud. Shirley has 3 granddaughters and 6 great-grandchildren. "3 and 3" she said while flashing one of her sweet smiles. It isn't a surprise when a little face appears in the doorway at Treasures looking for Grandma Shirley.
In 1950, Shirley started working at the First Bank of Baldwin as a Teller. She soon advanced to stenographer, then posting and kept "climbing the ladder" until she became a personal banker. "I planned on retiring from the bank when I turned 65; the bank decided we would begin handling loans and lending, so I retired at 64."
Shirley began volunteering at Treasures and did the ironing. "I had a hot iron and ironing board. We put out lots of clothes. It was a big job but I enjoyed it." When asked her favorite part about volunteering she said "The comradery. We laugh, tell stories and share recipes. I enjoy our coffee breaks. We bring treats and do the Jumble and seven-letter puzzles from the Sunday paper." After 19 years of volunteering, she still looks forward to Thursdays.
Shirley is a member of the Women's Axillary at Western Wisconsin Health, serves on the board at First Bank of Baldwin and is the friendly face greeting family and friends at O'Connell's. In her younger years you could always find her and Bud square dancing. They were so smooth and fun to watch. They always had the prettiest matching outfits.
When asked what advice she would give to the younger generation, Shirley replied, "Work hard, it wont kill ya. Work hard and stay humble."
Shirley has always lived her life by one simple motto: "Don't ever forget the Lord." Her generous heart, infectious smile and gentle demeanor prove this true.
We are grateful for all Shirley does for our organization and look forward to spending many more Thursdays with her.
Volunteer Spotlight
Meet
Shirley Rademaker
(Baldwin 2)
Sharon Janski has been a resident of Baldwin since 1975, born in Wabasha, MN. She is the proud mother of 2 children and four beautiful grandchildren. Sharon's past history has always been focused on caring for others such as mother, homemaker, caregiver, and housekeeper for the elderly and disabled.
Sharon's favorite thing is spending time with family, dancing (of course, and she is quite the dancer) baking, traveling, and working at Adoray's Treasures II.
Sharon has volunteered for about 3-4 years . Sharon many weeks volunteers 3 days a week! Whenever we do estates sales or pop up store she is always one of the first to say "I want to help!" Sharon loves organizing, helping Treasures II look nice, and loves working to help customers have a great experience! You can ask Sharon to do anything at the store, she is always willing. When you thank her for doing something, she always responds, "No, thank you!"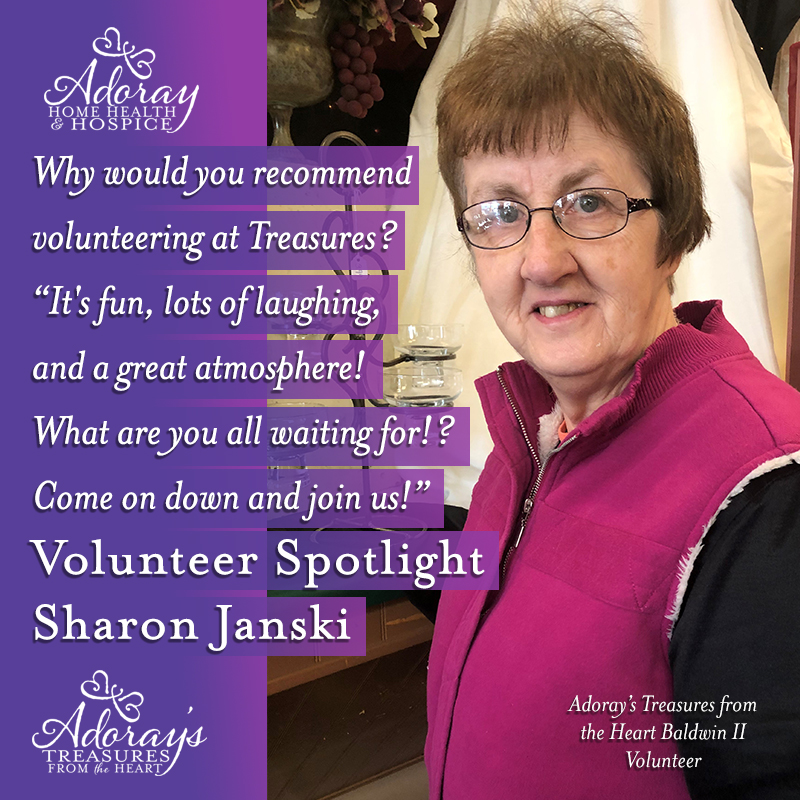 Sharon's favorite memory of Treasures II is all the beloved friendships she has made here. "I will cherish those memories forever!"
When asked why would you recommend Treasures II a place to volunteer? Sharon says, "It's fun, lots of laughing, and a great atmosphere! What are you all waiting for!? Come on down and join us!"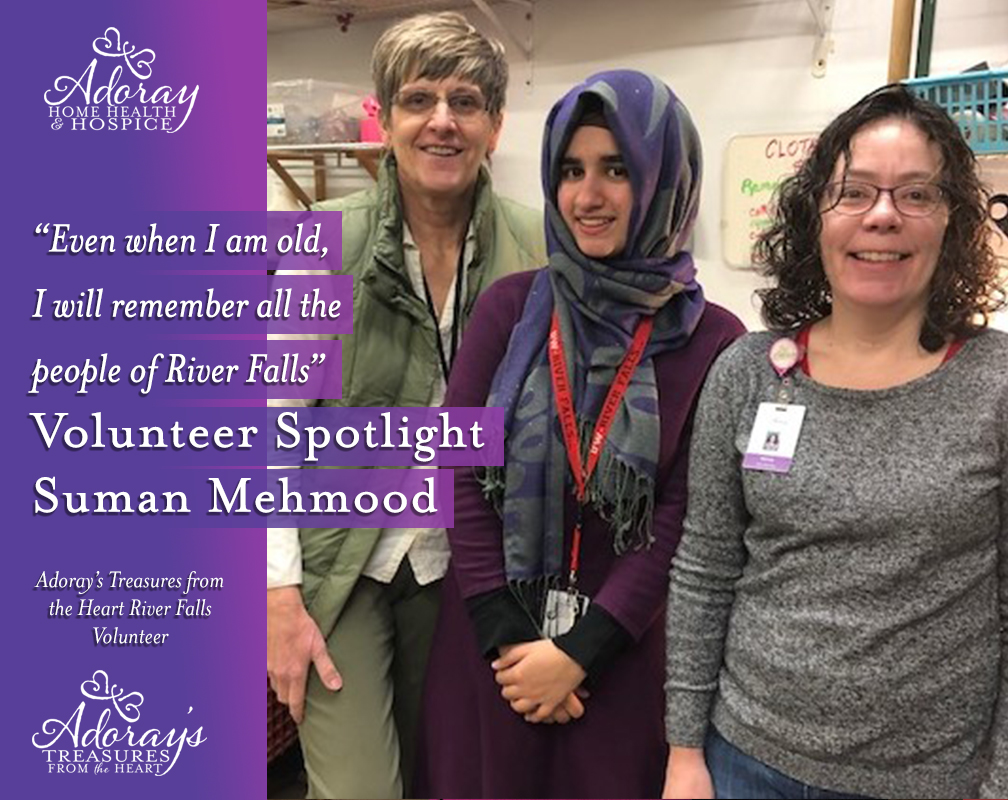 Volunteer Spotlight
Meet
Suman Mehmood
Suman is a Junior studying Biotechnology and is attending UW-RF for the spring semester. Her home is Kashmir Pakistan, a remote area located on the border of India and Pakistan. This area of the world is under dispute between the two countries and life there is very different than in River Falls. Suman is one of 98 students that have come from Pakistan to America on scholarship to learn not only about their area of studies but also about America, and to share their experiences with us. She will call River Falls home until mid-May. Part of her cultural experience requires her to perform community service. We are so pleased that she has chosen us in River Falls.
Suman stays in the dorms on campus and also has a host family that has opened their home to her. She loves River Falls. "Everyone has been so friendly," she explained. "The people are helpful and so kind." Her fellow students have accepted her, and we know why. Her kind smile and beautiful eyes make you feel warm and you can't help smiling back when you meet her. "Even when I am old, I will remember all the people of River Falls," Suman says.
The volunteers have taken her under their wings and share stories with her in the breakroom. Recently, Marcia was handing out Valentines and Suman asked what Valentine's Day was. Marcia explained it was a day to express your love not only to your boyfriend or husband, but you can express your love to your parents, grandparents or friends. Little things we take for granted are new again when seen through the eyes of a person from the other side of the world.
At first, you believe Suman is quiet and shy, but soon you realize she is very funny. In her culture a younger person does not engage in eye contact with their elders or their teachers or bosses. "When answering or asking questions you are to look down, but in America it is completely opposite", she explained with a smile. Another big difference is how safe she feels here in River Falls. At home, a young woman can never walk alone. They must be accompanied by their father or brother. Suman is enjoying walking to and from campus from the store despite all the winter weather.
Suman is discovering a new world. She attends the University of Kotli AJK in Pakistan. At home there are no musical studies. She has found a love for Jazz music and is taking a History of Jazz class, and with help of one of her professors is taking guitar lessons. She hopes to bring home a guitar and be able to play for her family and friends. "They will freak out!" she exclaimed with a smile.
Suman has big aspirations. After she receives her Bachelor of Science in Biotechnology, she hopes to get a scholarship and come back to America and obtain her Masters and then PHD. Her eyes are set on NASA and being an Astronaut. With all her determination and adventurous spirit, we know that someday she will be flying among the stars.
Mark your calendars for our big
"Anniversary Savin-o-the Green Sale-abration"
March 15-21, 2020
There will be cake & Potato Soup Crawl on Sunday, March 15th.
Join us for Golden Ticket Hunts, prizes and tons of fun ALL WEEK LONG!

Feel Good Stories from Osceola
Grace is our loyal Tues/Thurs and fill-in volunteers. She knows very well that some days are dull and some are much more interesting. Today, started out slow, but picked up by about 11am and was a steady stream of customers until 5pm. Early afternoon, a lady came in and was visiting with Grace about the perfumes we had on the jewelry counter for sale, saying one was her favorite scent. The lady remarked at how great the prices were and bought a few bottles, including one for Grace! This wasn't a .99 bottle either; it was $34.99. Grace resisted the gift but the lady told her a story about how she had been given a nice inheritance and didn't know how she'd ever spend it all, so she wanted to treat this lovely volunteer. (She also mentioned she would be back to shop our store!) Grace was emotional a bit later when she told me the story. She said no one had ever done something like that for her. I cannot think of anyone more deserving of this special treat than our Grace.
About 2 hours later, a lady was in shopping and only bought a pair of slacks, but had noticed a young couple with two small children shopping for clothing also. They had been piling up clothes on the counter because their hands were full. When she checked out, she tucked $15 under the pile of clothes to help cover their purchase. This couple was overjoyed when they came to the checkout and realized that over half of their purchase was covered! The young man commented on how much he loves our store and how he hopes he can do the same as this lady did for them, someday too.
Grace left the store today filled with joy, hope and smiles, assured that there are some really GOOD people in this world!
Virtual Suggestion Box
Do you have ideas on how to make Adoray a better place to work and care for patients? Submit your ideas using the virtual suggestion box. This box will be monitored daily and will be forwarded to the appropriate manager for action.
Adoray Home Health & Hospice
990 Main Street, Suite 1 | Baldwin, Wisconsin 54002
7156291888 | a.bettinger@adorayhomecare.org